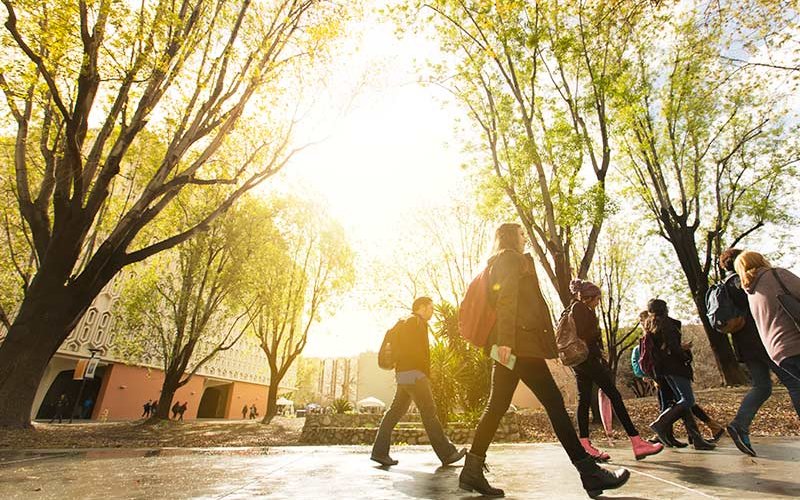 Cal State Fullerton kicks off its spring semester with classes beginning Saturday, Jan. 20, (although most students will be returning Monday, Jan. 22,) with more than 39,000 students and a new president. Framroze Virjee began serving as the new president of Cal State Fullerton on Jan. 1.
Opening-day enrollment figures indicate 39,176 students enrolled, including 4,017 attending classes in Irvine.
Activities and Upcoming Events
Upcoming activities during the early weeks of the semester include Discoverfest from 11 a.m. to 2 p.m. Jan. 31 and Feb. 1 in the Quad, the Humanities-Social Sciences Building plaza, along the walkway between the Pollak Library and Titan Student Union, and east of Titan Shops. Students will have the opportunity to learn about and get involved in clubs, organizations and other campus programs.
Campus members will honor the legacy of civil rights leader Martin Luther King Jr. during a weeklong celebration, featuring a mural project, lecture, two film screenings of "Selma" and a spoken word event. 
Registration begins Jan. 22 for the Student Recreation Center's dance and martial arts classes, intramural sports, performance swim, Titan Strong bootcamp and weight room. Registration is available at the SRC Sales and Service Desk.
Associated Students Inc.'s semimonthly Farmers Market returns Jan. 23 from 11 a.m. to 2 p.m. in the Humanities-Social Sciences Building plaza.
Sophia Bollman headlines ASI Productions' first noontime concert of the semester Jan. 24 at the Becker Amphitheater.
Battle of the DJs is back Jan. 31 from 2-4 p.m. at the Becker Amphitheater. Students can win a chance to perform at the ASI Spring Concert.
The Titan Student Union's Titan Bowl and Billiards hosts "Free Billiards" every Tuesday from 2-4 p.m. starting Jan. 23, "$1 Bowling" every Wednesday from 2:30-4:30 p.m. beginning Jan. 24, "All You Can Bowl for $3" every Thursday from 1:30-3:30 p.m. starting Jan. 25, "Board Game Nights" every Friday from 5-10 p.m. starting Jan. 26, and "Super Smash Bros. Tournament" every Tuesday from 5-10 p.m. beginning Jan. 30.
New Courses
Several new courses are being offered for the first time this semester, including: Dino World, a geology course that provides understanding of the evolution of prehistoric creatures and their effect on Earth; Spirituality and Health, which expands discussions on mental and physical health to the importance of spirituality; the Spanish Civil War, which focuses on the causes and consequences of the conflict by analyzing such sources as Pablo Picasso's paintings and George Orwell's writings; and Literature and the Environment, a course that explores how literature represents and imagines human relationships to the environment.
Campus Renovations and Improvements
Renovations to the first floor of the Pollak Library are finishing up, and a grand opening for the new facility will be held in March.
In addition to technology upgrades completed last year, classrooms in the Humanities-Social Sciences Building are being refreshed with new lighting, new lighting controls, paint and chair rails. McCarthy Hall and the Visual Arts complex are getting bathroom upgrades with new partitions, sinks and faucets, and fresh paint. New bottle refilling stations  are being installed in more campus buildings.
Parking Updates
More charging stations and new technology will help students, faculty and staff get where they are going this spring. Like last year, University Parking and Transportation will be offering assisted parking services (think valet parking), and overflow parking is available on two levels at the Evangelical Free Church's parking structure, 2801 Brea Blvd., Fullerton, 92835.
Shuttles will run every 10-15 minutes to take campus members to and from campus to the church parking structure. The shuttle pick-up/drop-off location has been moved from Gymnasium Drive to Lot A South adjacent to the parking and transportation building. Campus parking permits are required to park at both sites, but this semester a limited number of $70 parking permits are available to those parking their vehicles offsite at the Evangelical Free Church. The permits are valid Monday through Thursday at the church, as well as Fridays and finals week on campus.
Shuttle service operates all day until 10 p.m., and vehicles left in the church facility after 10 p.m. will be subject to tow. Details can be found at http://moreparking.fullerton.edu/
Assisted parking, where drive aisles are used as temporary parking once a lot is filled, is being offered in four campus lots this semester.
The service will be available to all members of the campus community in the student Parking Lot A on the north west sides of campus — and for faculty and staff in the faculty/staff section of Parking Lot E along the 57 Freeway behind the Eastside Parking Structure. The service will be available from 9 a.m. to 4 p.m. Monday through Thursday beginning Jan. 22. More information is available online.
Cal State Fullerton is making it easier to use an electric vehicle to get to and from campus. Charging stations are available throughout the campus, including College Park north lot, Mihaylo Hall loading dock and on Corporation Drive. In addition, coming later this spring, are an additional 21 charging stations, including handicapped accessible spaces. Construction is ongoing at the new site on Gymnasium Drive from State College Boulevard to West Campus Drive.
And the charging stations are getting smarter to help drivers find available slots. When all stations are in use, drivers can join a waitlist. When a spot becomes available, those on the waitlist will be notified: participants can accept the spot and it will be held for the individual — or if the driver is busy, hit 'snooze' and let the next person have the spot without losing their place in line.
More information can be found here , including locations on and off campus. 
To avoid parking hassles entirely, the university offers various transportation options. Check out the choices of carpool parking, using the train or buses. More information is offered at the Parking & Transportation Services website.
More questions about parking? Call Parking & Transportation Services at 657-278-3082, Monday through Friday, 8 a.m. to 5 p.m.