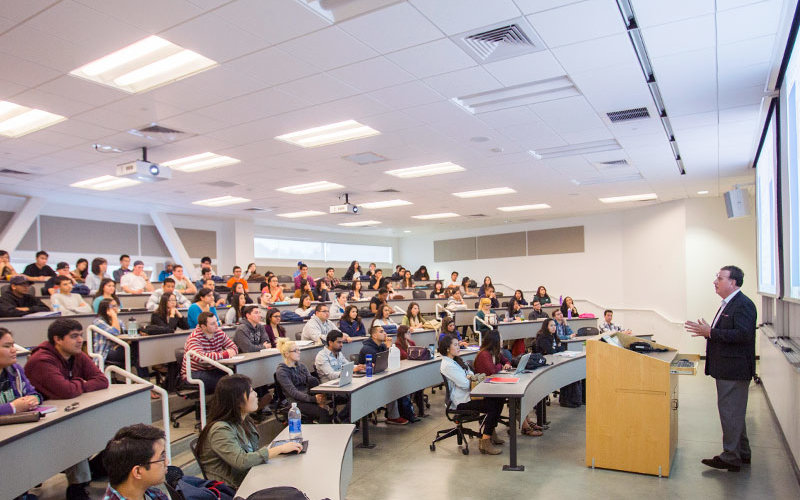 Returning this spring with a new slate of scholars and topics, Cal State Fullerton's College of Humanities and Social Sciences' lecture series will explore controversial theories and separate fact from fiction on a variety of subjects in history, science, education and philosophy.
The "Alternate Facts" series takes place in Room 360 of Pollak Library on select Mondays and Tuesdays.
Tuesday, Feb. 13, 11:30 a.m.-12:50 p.m.
"Alternative Histories of Southern California"
Costa Mesa tried to buy Baja California in 1968, the same year that a group of eighth-graders refused to attend their social studies classes because they did not want to learn about African Americans in U.S. history. American studies faculty members Sara Fingal and Elaine Lewinnek team up for a talk based on an analysis of transnational environmental politics and the investigation of public schools, collective memory and the rise of the new right.
Tuesday, March 13, 11:30 a.m.-12:50 p.m.
"Too Perfect to be True: 'Fake' Research or Yet Another Crisis for the Academy"
A 2017 Pew Research Center study shows that 58 percent of Republicans believe that higher education has a negative impact on society, up from 45 percent in 2016, while 72 percent of Democrats say colleges and universities have a positive effect. Jawad Ali, lecturer in liberal studies, provides strategies for navigating the growing divide between the two parties on the role of the university in American public life.
"Science and Politics in the Age of Alternative Facts"
Kevin Lambert, associate professor of liberal studies, argues that scientific cultural authority depends not on how accurately scientific theories describe the world but on how scientists and engineers act on it. Understood in this way, the politics of science are concerned not with whether technoscientific knowledge is true but with how it should be used.
Monday, April 16, noon-12:50 p.m.
"The Father, the Son and the Spectre of Anxiety: The Deception of Richard Henry Dana Jr."
Marti Klein, lecturer in liberal studies, discusses how false information led a Harvard student to leave school and go to sea as a common sailor. R.H. Dana Jr., author of the iconic "Two Years Before the Mast" (1840), was misled by his family into believing he had serious illnesses that would prevent him from returning to school, contradicting his doctors' diagnoses and the truth.
"Being as a Model Minority"
The model minority theory, first coined in 1966, has been contested by most Asian American studies scholars because it functions as a tool for racial stratification. Emily S. Lee, associate professor of philosophy, explores the experiences of Asian Americans living with the social construct.
Tuesday, May 8, 11:30 a.m.-12:50 p.m.
"A Refugee Crisis in Europe? Words, Facts and the Politics of Fear"
Aitana Guia, assistant professor of history, argues that the arrival of refugees in Europe since 2015 is simultaneously a humanitarian emergency and a demographic, economic and cultural opportunity for Europe. While the costs of massive refugee arrivals are high and have tested solidarity and burden-sharing among European Union member states, the term "refugee crisis" may ultimately be a misguided, self-fulfilling prophecy.
"Distinguishing Fact From Fiction: The Moral and Ethical Difficulties of Working With Forced Confessions"
In her research at Aquivo Nacional Torre do Tombo, the secret police archives in Lisbon, Portugal, Kate Burlingham gained access to rare testimonials of anti-colonial war Angolans, albeit recorded in forced circumstances and often under extreme duress. The assistant professor of history discusses the challenges, both morally and analytically, of working with these types of sources while exploring what, if any, value they offer researchers.
For more information, visit the HSS website.