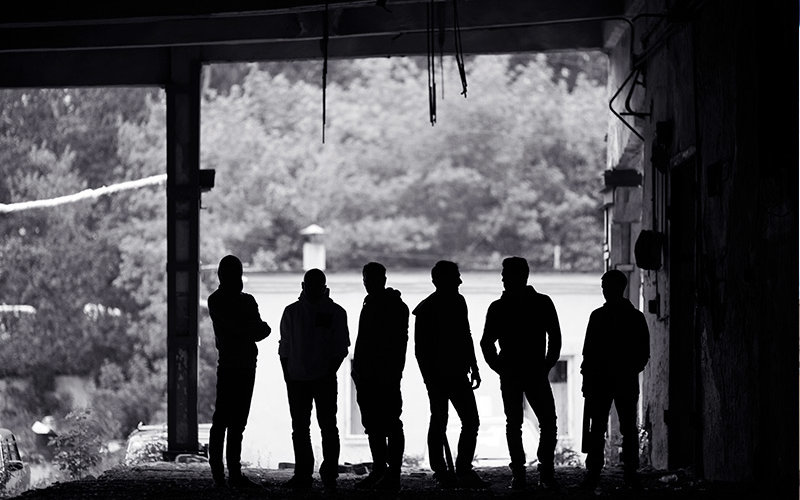 Lidia E. Nuño, a Cal State Fullerton assistant professor of criminal justice, is one of a handful of researchers across the country studying the MS-13 gang's presence in the United States and Central America.
During President Donald Trump's first State of the Union address, he said the "savage" gang "took advantage of glaring loopholes in our laws to enter the country" and emphasized the need to restrict immigration to protect the U.S.
The rhetoric is something Nuño hopes to clarify, drawing upon hundreds of qualitative interviews she has conducted over the last 10 years — in El Salvador, Los Angeles and Washington, D.C. — with detained and active gang members, local and federal law enforcement officers, community leaders and other stakeholders.
An international gang that crystallized in Los Angeles during the 1980s, MS-13 (Mara Salvatrucha) predominantly recruited the children of Salvadoran immigrants, who were fleeing a civil war heavily funded by the U.S. under the Reagan administration.
Seeking identity and protection from other street gangs, MS-13 grew violent and Los Angeles law enforcement began incarcerating more and more of its members. The Clinton administration's Illegal Immigration Reform and Immigrant Responsibility Act of 1996 deported many of these individuals from California jails to a war-torn Central America.
"One of the dirty little secrets of why we provide so many resources to Central America today is because we know that we indirectly — and I will never say that we intended to do this — created a social issue by deporting individuals who only knew how to do crime to a broken country," says Nuño. "So the gang grew, like a cancer, and by the time we found out, it was too hard to control."
The gang today, she explains, does not operate the same way in North America and Central America — nor does it have the transnational capacity many people think it does.
"They're not recruiting across borders or coming and going a lot. For the most part, MS-13 is either here or there," says Nuño. "They do communicate with each other, but their communications are not necessarily to create a transnational entity that is going to take over the world.
"They're also not as prevalent, nor as violent, in the United States as people think they are," says Nuño. "In Los Angeles, MS-13 is very similar to a typical gang. They're definitely involved in what I would call conventional gang activities, such as robberies and drug sales, but there isn't nearly as much violence as we've seen in Central America."
"People don't get up one day and say, 'Let me go be a gang member because it sounds like a great idea in life.' People fall into certain situations."

— Lidia E. Nuño, assistant professor of criminal justice
In the U.S., MS-13 is one in a long list of notorious gangs. In El Salvador, there are two primary gangs: MS-13 and the 18th Street gang, both of whom Nuño and her fellow researchers have interviewed.
Being bilingual and having a strong cultural understanding have helped Nuño assist her colleagues — Charles Katz, her mentor and a professor at Arizona State University, and Andrew Fox, an assistant professor at Fresno State University — in gaining access to a hard to reach population.
Nuño, who calls the work both draining and rewarding, says her goals are to bring a human face to a significant social issue and to provide informed data to policymakers. To date, the team's work has been funded by such organizations as the Department of Homeland Security and the National Justice Institute.
"If policymakers understand what MS-13 is, and what it's not, I think we can treat them accordingly," says Nuño. "It's important for us to understand the reasons why these individuals engage in that type of behavior so we can make informed decisions not only about the way that we process them in the system, but also about how we create programs to help them.
"People don't get up one day and say, 'Let me go be a gang member because it sounds like a great idea in life.' People fall into certain situations," she says. "For the most part, gang members say if they could, they would have chosen a different path in life.
"When asked if they would leave the gang, they say yes."
Nuño joined CSUF's Division of Politics, Administration and Justice last fall and teaches such courses as "Gangs and the Criminal Justice System," "Policing" and "Minorities and Crime." She looks forward to involving students in primary data collection, an opportunity she received as an undergraduate, graduate and doctoral student at Arizona State University.
"I never set out to get a Ph.D. or to study one of the world's most infamous gangs," she says. "Getting involved in research as an undergraduate student really shifted my entire career."