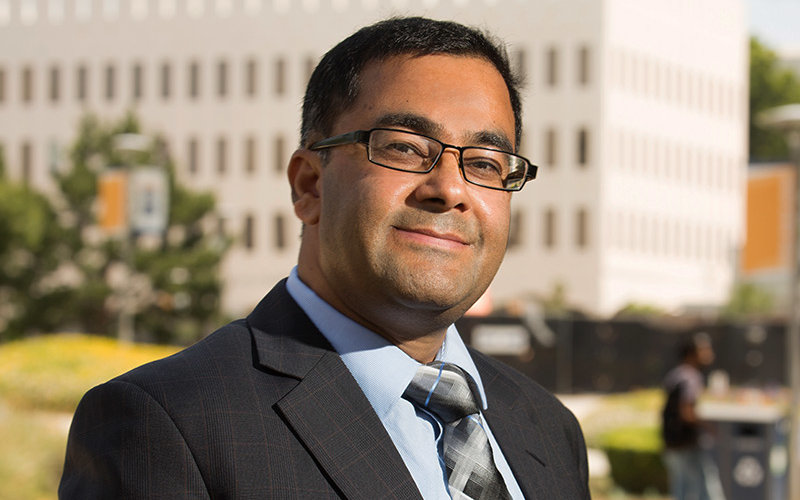 Cal State Fullerton's 2017 Outstanding Professor Binod Tiwari will present "Living With Natural Disasters" at his Tuesday, March 6, Outstanding Professor Lecture.
Tiwari, professor of civil and environmental engineering, and an expert in geotechnical engineering, will discuss his faculty-student research to reduce the destruction and loss of property and lives from natural disasters, such as landslides, earthquakes, floods, hurricanes and wildfires.
The researcher, who has a global reputation, will share his experiences as a member of the Geotechnical Extreme Event Reconnaissance Team following destructive earthquakes in Nepal and Japan. Tiwari, a native of Nepal, led a team of U.S. and international engineering and geotechnical experts who collaborated with various Nepalese organizations, including academic institutions, government organizations and professional societies.
The 3-5 p.m. lecture, presented by the Office of the President and supported by the Faculty Development Center, is open to the public and will be held in the Titan Student Union's Portola Pavilion. A reception will follow the lecture.
Tiwari has secured nearly $1.6 million in research grants from such agencies as the National Science Foundation and the U.S. Department of Education. His research focuses on soil and rock slope stability, natural disaster mitigation and geotechnical earthquake engineering.
Tiwari, who has taught at CSUF since 2006, also is a recipient of CSUF's 2016 Carol Barnes Excellence in Teaching Award and serves as vice president of the International Consortium on Landslides. He earned his doctorate and master's degree, specializing in geotechnical engineering, from Niigata University in Japan, and his bachelor's degree in civil engineering from Tribhuvan University in Nepal.