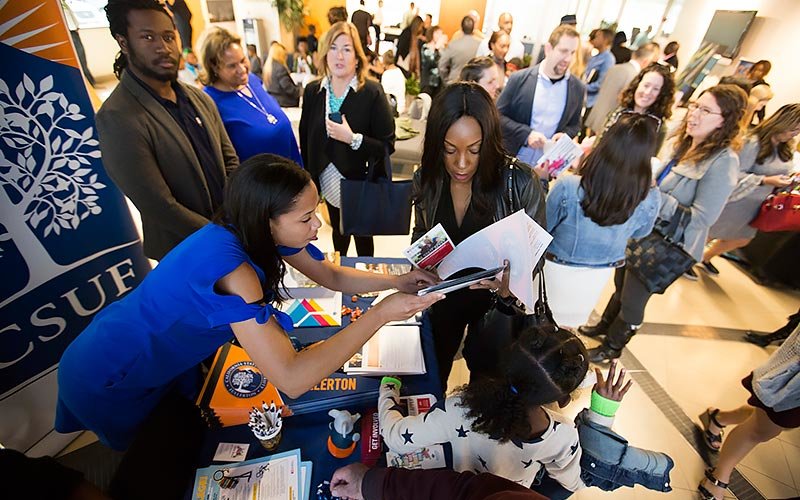 Standing before more than 900 congregants at Christ Our Redeemer African Methodist Episcopal Church Sunday, President Fram Virjee exclaimed that "College is for you!"
Each year, the California State University's 23 campuses send out campus presidents, administrators and faculty to more than 100 predominantly African American churches throughout the state.
As he addressed the congregation, Virjee outlined the ways that Cal State Fullerton is committed to diversity and inclusion on campus.
"We are fifth in the nation in graduating students of color," he said. "We were also the first university on the West Coast to appoint an African American woman as its president … 37 years ago! Diversity and inclusion isn't something new to us. Jewel Plummer Cobb was the granddaughter of a freed slave. She attended the University of Michigan but, because black students were not allowed to live on campus at that time, she transferred to Talladega College.
"Today," he announced, "the dorms at Cal State Fullerton are named in her honor."
Virjee went on to point out the university's commitment to African American students through such programs as "Fall In Love With Fullerton Day," an event designed to ensure that all prospective African American students and their families feel welcome. Another example is partnerships with alums such as Bobby McDonald, president of the Black Chamber of Commerce of Orange County, who partners with faculty for the African American Studies Vision for the Future fund. There are African American studies programs, clubs, centers and much more.
"How many of you are concerned that you might not be able to afford a college education?" Virjee asked. When a wave of hands shot up in the air, he said: "Cal State Fullerton is here to partner with you. You can succeed whether you're the first in your family to attend college or if you want to return after some time away.
"We have outreach staff who can help you. In fact, nearly 80 percent of CSU undergraduates receive non-loan financial aid, and most CSU undergraduates graduate with zero college loan debt. Zero!
"This is not charity," he explained. "The CSU campuses are your colleges. They are supported through your taxes. They were created to help you launch a successful future, not only for yourselves, but for your family and future generations."
He cited the role of Michelle Obama who was told in high school that she was "aiming too high" when she expressed an interest to go to Princeton. Fortunately, she didn't believe that. She went on to Princeton, graduated with honors, earned a law degree from Harvard and, as a corporate attorney, supervised a young lawyer named Barack Obama.
"I share this story with you because there is a history of African Americans who have been told they couldn't achieve — Martin Luther King Jr., W.E.B. DuBois, Thurgood Marshall and many more," Virjee said in closing. "Their paths weren't easy but they persevered. At Cal State Fullerton, we are a community that stands together and thrives. We celebrate you and invite you to pursue your education with us."