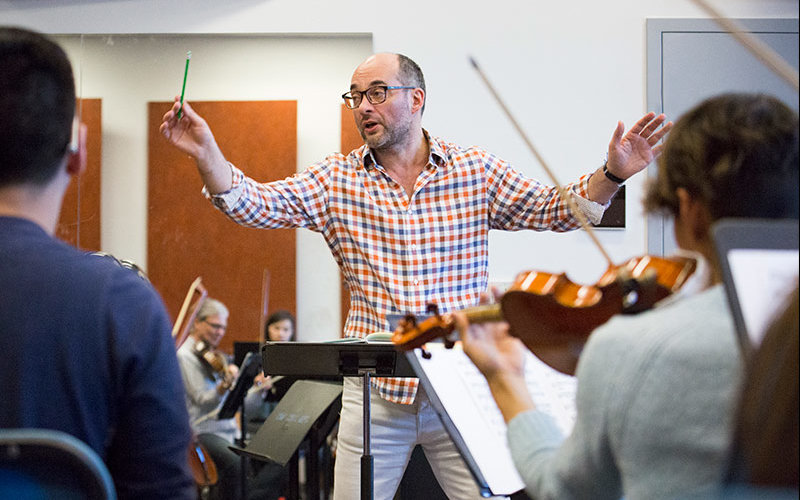 It was a chance encounter that led to a friendship, and later to a decades-long collaboration between Cal State Fullerton and the Talich Quartet. Ernest Salem and Jan Talich met in London nearly 20 years ago while studying under the great violinist Yfrah Neaman. Bound by mutual admiration, the university professor and the first violinist of the renowned string quartet kept in touch.
"When I went back to Prague with the Cal State Fullerton University Orchestra, I contacted him again and said, 'wouldn't it be great if you guys came out and we could establish some type of artist residency?'" says Salem, who has taught at CSUF for 28 years.
Talich Quartet was founded in 1964 by Jan's father, Jan Sr., and named in honor of his uncle Václav Talich, who was chief conductor of the Czech Philharmonic Orchestra. The Prague-based string ensemble comes to Cal State Fullerton every year to provide valuable instruction to students in the School of Music.
"The students all know them," says Salem. "We like to say CSUF is the West Coast home of the Talich Quartet."
The annual weeklong visit has the quartet working with School of Music students via master classes and lessons. Each year, says Salem, the program expands. Salem plays concertmaster and Talich conducts, while the other quartet members sit in the principal chairs — second violinist Roman Patocka sits principal second, violist Radim Sedmidubsky sits principal viola and cellist Petr Prause sits principal cello. Time permitting, some of the university's smaller chamber groups, like string quartets or trios, also get coaching from the ensemble.
"We have all the string students play," explains Salem. "It's not just a select group that gets to play with them like in a master class; everybody gets an experience with them."
Emily Balderrama '17 (B.M. music-instrumental), who is working toward her master's degree in music, has been able to work with the quartet every year since she arrived at Cal State Fullerton. 
"It was such a great experience — playing some of the best string orchestra repertoires, working one-on-one in various master classes," says the cellist. "The week they are here in residence is pretty intense, as the orchestra will have added rehearsals outside of our weekly class meeting to put together the top-notch program. These rehearsals provide us the opportunity to learn from what Jan Talich brings to the various scores." 
One of the lessons Aaron Tam '17 (M.M.- performance) learned from the Talich Quartet during his time at Cal State Fullerton was the importance of communication. "In orchestra, the conductor works with and leads the musicians. With chamber music such as a string quartet, the creative responsibilities rest in the hands of the musicians themselves," he shares. "You have to learn your own parts, how they work with other parts and how they fit with one another, but you also have a lot of freedom to make your own decisions in the music." 
Tam is now working toward his artist diploma at the San Francisco Academy Orchestra, taking weekly lessons and master classes with members of the San Francisco Symphony.
"When rehearsing with the Talich Quartet, I was able to see what happened behind the scenes," he explains. "Determining phrases and bowings for the violins also included the violas and cellos; sometimes it made sense to play the same way, while other times there were other priorities in the music."
"Students get exposure to world-class musicians," says Salem. "Not that they don't already get some of that here — but it's really inspiring to have somebody from the outside come in, talk to them and play with them at a very high level."