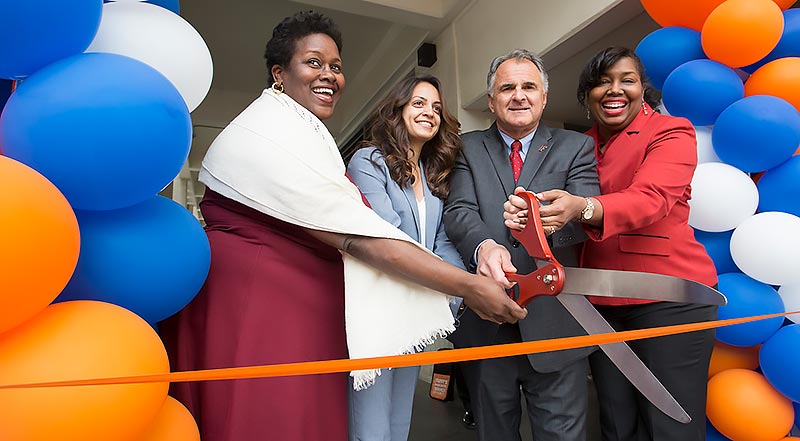 "When you have a place — and when you have people who care about you — magic can happen," said Cal State Fullerton President Fram Virjee at the Feb. 14 grand opening of Tuffy's Basic Needs Services Center.
Offering a centralized location for students to receive support for unforeseen hardships or emergencies, the basic needs center is open 10 a.m. to 4 p.m. weekdays in Room 143 of McCarthy Hall.
"Students can't succeed if they come to class hungry, if they spent the night sleeping in their car, if they don't know how they're going to pay for their tuition or if they're suffering from a medical crisis," said Virjee. "The center is an opportunity for us to help those students who are most at-risk find a path forward."
The center's services include:
Food assistance in the form of gift cards to campus dining locations, donated meals at The Gastronome, Titan Bites messaging app, CalFresh Program or referrals to a full-service pantry near campus
Emergency temporary housing for up to two weeks
Hygiene products
Gently used professional attire
Financial support for unforeseen emergencies, crises or catastrophic events
Acknowledging the university's long history of supporting students, Virjee explained that the center will serve as a critical access point for students to find the collection of services they need. "They don't have to go searching all over campus. Here, they will find people who understand what they're going through and understand what their needs are," he said. "This is Titans reaching higher in spades."
Master of social work student Tom Garland '16 (B.S. human services) and alumna Kayleigh Bates '17 (B.S. kinesiology), who helped envision the center on campus, were recognized for advocating on behalf of their fellow students.
"When I was in college, I had so many friends who were really struggling and didn't know where to go or who to turn to for help," said Bates, who served as the 2016-17 chair of the Associated Students Inc. Board of Directors and returned to her alma mater for the grand opening. "I'm really excited for current students to enjoy this center."
Bates, who now works as a physical therapy aide and plans to pursue a doctorate in physical therapy, encourages students to continue voicing their ideas to the university.
"To see this idea come to fruition has been so exciting, and it motivates students to bring their issues up to the university," she said. "The university does move on things, and it will continue to work to support students."
The center accepts monetary gifts, as well as donations of new hygiene products (shampoo, conditioner, toothbrushes, toothpaste, dental floss, deodorant, pads, shaving cream, razors, combs/brushes, washcloths) and gently used professional attire (dress shirts, blouses, suit jackets and pants, neckties, dresses, skirts). Shoes and other accessories are not being accepted at this time.
Tuffy's Basic Needs Services is a campuswide initiative coordinated by CSUF's Dean of Students Office, supporting the California State University's Basic Needs Initiative. For more information, visit the Dean of Students Office website or call 657-278-3211.