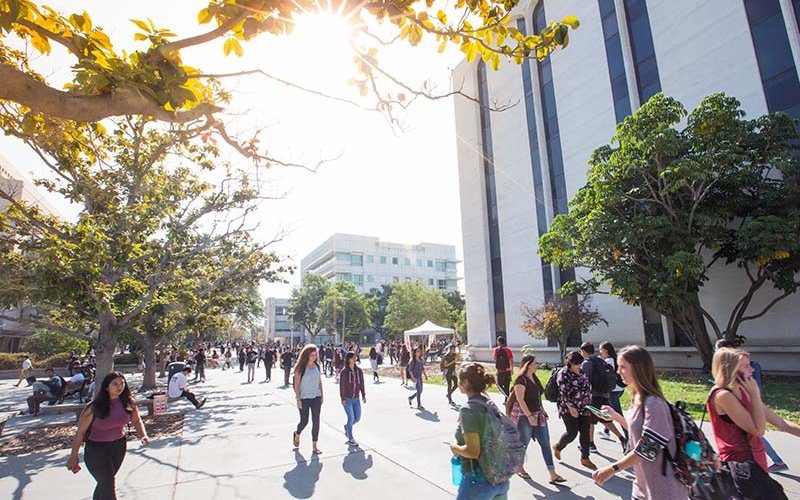 The Cal State Fullerton tradition of Titans helping Titans expands its reach Wednesday, Feb. 14, with the grand opening of Tuffy's Basic Needs Services Center.
Dedicated to helping students who experience hardships such as food or housing insecurity, the center promotes wellness and offers support — food assistance, short-term housing, hygiene products, professional clothing, emergency grant funds and off-campus social services — that enables students to complete their education.
A noon to 2 p.m. ceremony will take place in the Quad — with a ribbon-cutting outside the center, Room 143 of McCarthy Hall, between noon and 1 p.m.
Campus and community partners, including Aramark (The Gastronome), CSUF Interfraternity Council, Division of Student Affairs, OC Choice Catering and Second Harvest Food Bank of Orange County, will share information about resources available for students.
"Students who face sudden crisis-situations that cause basic needs hardships will clearly struggle to meet academic expectations," said Carmen Curiel, associate dean of students. "A center specifically intended to address these concerns and provide needed resources can help restore a student's well-being and in turn result in educational achievement."
During the grand opening, Tuffy's Basic Needs Services staff will be available to collect donations of hygiene products (shampoo, conditioner, toothbrushes, toothpaste, dental floss, deodorant, pads, shaving cream, razors, combs/brushes, washcloths) and gently used professional attire (dress shirts, blouses, suit jackets and pants, neckties, dresses, skirts). Shoes and other accessories are not being accepted at this time.
Tuffy's Basic Needs Services is a campuswide initiative coordinated by CSUF's Dean of Students Office, supporting the California State University's Basic Needs Initiative. A 2015 study by the Chancellor's Office estimated that 8 to 12 percent of the CSU system's 460,000 students live in unstable housing conditions and 21 to 24 percent lack regular access to food.
For more information, visit the Dean of Students Office website or call 657-278-3211.