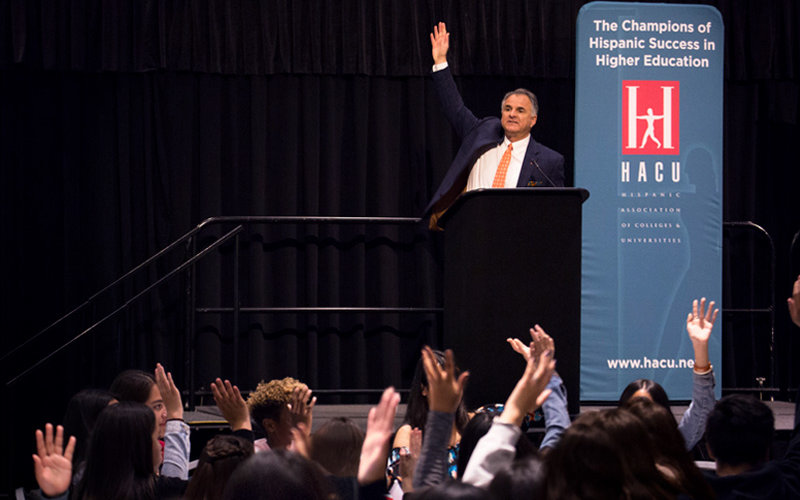 Nearly 700 students from high schools in La Puente, Lakewood and La Verne, attended a variety of campus programs this week at Cal State Fullerton during a Hispanic Association of Colleges and Universities/U.S. Army University Tour. For many of the students, this was their first time on a college campus.
"Welcome to college," said CSUF President Fram Virjee, in greeting the students. "As of this morning, you are all Titans…at least for today.
"If you decide to come to Cal State Fullerton, I want you to know that we will welcome you," he continued. "Nearly 60 percent of our students are the first in their families to attend college. More than 40 percent of our students are Hispanic, and more than 60 percent of our students receive some kind of financial aid. For those who are worried about being able to pay for tuition, you can afford it! There are Pell grants, Cal grants, and the CSU's state university grants.
President Virjee shared that Cal State Fullerton is No. 1 in California and No. 2 in the nation for bachelor's degrees awarded to Hispanic students.
"When you graduate from college, your life is changed," he said. "I know because I was one of them. My father was an orphan on the streets of India and I immigrated to this country when I was only six. Public education transformed my life and set me up to grow to where I am today. Yes, I was the first to go to college in my family … but not the last. My siblings went to college, my sons went to college and I know my grandchildren — I only have one right now but hope to have more — will go to college.
"You see, college isn't just about you. Of course, you'll have far more career opportunities with a college degree, but it will also provide an example for generations to follow. I also want you to consider those who came before you. Your parents and loved ones work very hard. They hope and pray that you will succeed. They are waiting to see who you are going to become," he explained.
"That's why we're all here today — Cal State Fullerton, HACU and the U.S. Army. We want you to know that you are supported.
"And the reason I am here is that I want to help all of you become Titans. You belong here — this will be a great experience for you. Let us know how we can help you. And if you do become one of our students, I want you to find me on campus one day and tell me that today was the day that changed your life. Today was the day, you decided to become a college graduate."