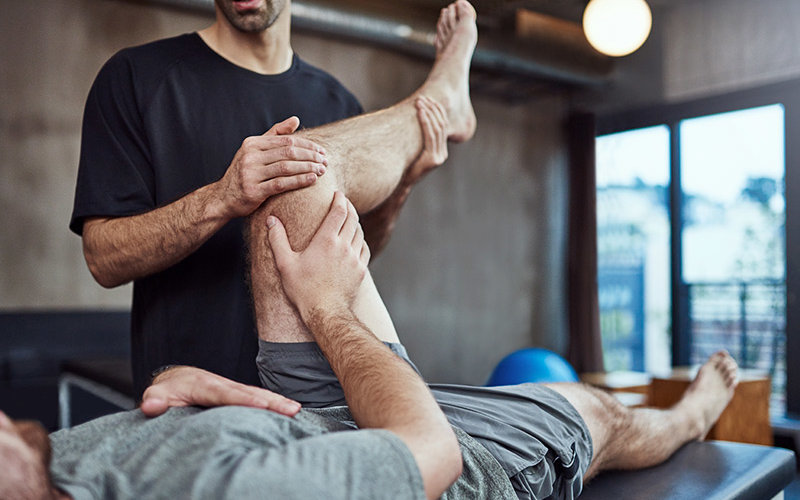 Tricia Kasamatsu, assistant professor of kinesiology and co-clinical coordinator in Cal State Fullerton's Athletic Training Program, has been racking up a lot of air miles as she keeps a close eye on a state assembly bill that calls for regulation and licensing of athletic trainers in California.
The state is the last in the country to make sure that athletic trainers working with athletes — whether they are in high school, college or professionals — have the proper education and certification to deliver appropriate patient care.
"It's about public safety and health care," said the educator, who has been following the efforts to license athletic trainers for about seven years. She was in Sacramento last week with other members of the California Athletic Trainers' Association meeting with legislators and their staff about AB3110, authored by Assemblymember Kevin Mullin and introduced Feb. 16.
Kasamatsu explained that athletic trainers are concerned about the health and safety of active individuals. Athletic trainers from other states who have lost their license to practice sometimes come to California and provide sub-standard quality care.
The field of athletic training, around since 1950, was created with the idea that when an athlete is injured there is someone there with specific training to prevent injuries, provide emergent care, and provide a continuum of care throughout the recovery process. Athletic trainers work under the direction of a physician and are a part of a health care team.
They also work for several major companies where their employees are often doing physical activities, such as performing arts at Disney and employees and drivers for FedEx. In addition, athletic trainers work with military recruits at Camp Pendleton and the Marine Corps Recruit Depot in San Diego.
But because of the lack of certification or licensing, there may not be an athletic trainer on the field, in the gym or other facility with that specialized training.
"There are incidents of harm that are caused when an athlete either does not have the appropriate care or follow-up," she noted, adding that the California Interscholastic Federation has recorded at least 120 high schools across the state with individuals calling themselves athletic trainers who are not qualified and may pose a risk to those seeking medical treatment from them.
The bill would establish a scope of practice for athletic trainers and would create an Athletic Trainer Licensing Committee within the California Board of Occupational Therapy to implement the provisions, including issuing and renewing athletic training licenses and imposing disciplinary action. The bill also would require specific requirements for licensure, including education, examination and the payment of a license application fee established by the committee.
"It creates no new board and is cost neutral," stressed Kasamatsu. "It is supported by both Democrats and Republicans, as well as many physician and other organizations.
"The value of it is that it promotes the level of care for athletes and recognizes the training and education of those in this important field," she added. "Pure and simple, this is about health care."
Cal State Fullerton is one of seven California State University campuses that offer a major in athletic training. Its program is accredited by the Commission on Accreditation of Athletic Training Education and allows graduates to take the national Board of Certification Inc. exam to become Certified Athletic Trainers. For four of the last five years, 100 percent of the athletic training majors at Cal State Fullerton have passed the national exam.