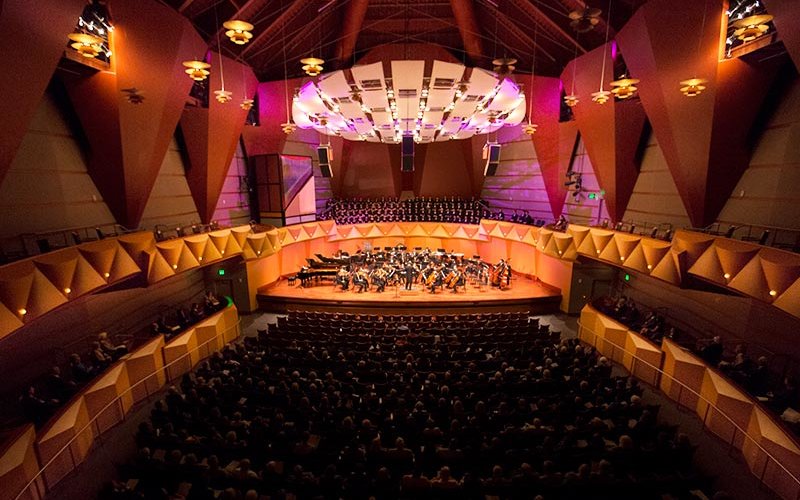 More than 250 students will envelop Meng Concert Hall in music Saturday, March 10, as the 11th annual Clayes Collage Concert makes its 2018 arrival.
Cal State Fullerton's student ensembles and musical collaborations will reveal themselves throughout the venue in two non-stop, surround-sound experiences at 3 p.m. and 8 p.m. 
Among the highlights this year: an homage to Leonard Bernstein on the 100th anniversary of his birth with "Mambo" from "West Side Story," performed by the University Symphony Orchestra, and "Overture to Candide," interpreted by the University Wind Symphony; a rousing rendition of "America the Beautiful" by the Symphony Orchestra and Symphonic Chorus; and "Bohemian Rhapsody," by the CSUF Tuba Euphonium Ensemble. 
Alumnus Mike August, the event's producer and director, shares that the university's Jazz Singers will join other CSUF ensembles for the first time.
"This will also be the first year we have a barbershop quartet, the 'Titans of Harmony,' performing," he adds. "They are a student-run group created by Titans who love barbershop music." 
"The Clayes Collage Concert has become a signature event that allows our students to reveal their talent and the instruction they receive at Cal State Fullerton," explains College of the Arts Dean Dale A. Merrill. "It also allows us to raise much-needed funds for music scholarships through ticket sales and special gifts from audience members."
The event also receives underwriting support from the retirement community Morningside of Fullerton. 
Tickets for the Clayes Collage Concert are available online.