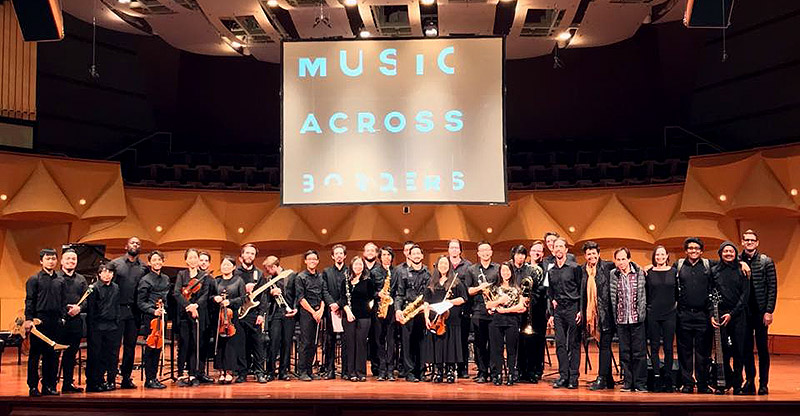 Joey Hotta will be one of thousands heading to Crystal Cove State Park during spring break — but only one of a few carrying a trumpet. The fourth-year student will join more than 20 of his Cal State Fullerton cohorts — all part of the CSUF New Music Ensemble — and faculty members Pamela Madsen and Eric Dries Saturday, March 31, as part of Art in the Park, an annual event celebrating beauty in art and nature. 
The ensemble will perform works from "There Will Come Soft Rains," Madsen's National Endowment for the Arts-commissioned composition created in collaboration with and support from Crystal Cove. The professor of music is a composer-in-residence at the state park.
This is the fifth year in a row that the university ensemble has been invited to perform at Art in the Park but it will be the first time for Hotta, a double major in music composition and cinema and television arts, who says that the rehearsals for this ensemble are different compared to most groups of which he's been a part. 
"We spend a decent amount of time discussing how to execute these abstract and at times intricate scores for performances," he explains. "In particular, one of our big pieces for Art in the Park, '57 Buzzards,' by Pamela Madsen, required some discussion prior to rehearsing. As an ensemble, we interpret the score at our own pace in relation to a soloist. The piece features some indeterminate aspects that make each performance unique from one another." 
"Performing with the New Music Ensemble has given me the opportunity to explore new areas of music I have never experienced before," says clarinetist Jenna Tatiyatrairong, who is pursuing a master of music. "It's exciting to try extended techniques and explore all of the sounds and colors that are possible on my instrument."
Experiences such as this one, says Hotta, are eye-opening. "Learning how to interpret scores like this in a practical setting provides us with new tools that will be useful as we delve deeper into our prospective fields.
"Personally, experiences like Crystal Cove are amazing opportunities for inspiration," he adds. "It ties well together with the collaborative projects that Dr. Madsen is encouraging all of us to take part in." One of these is an original composition, which will then be used as scores in other students' short films.
More information is available online.