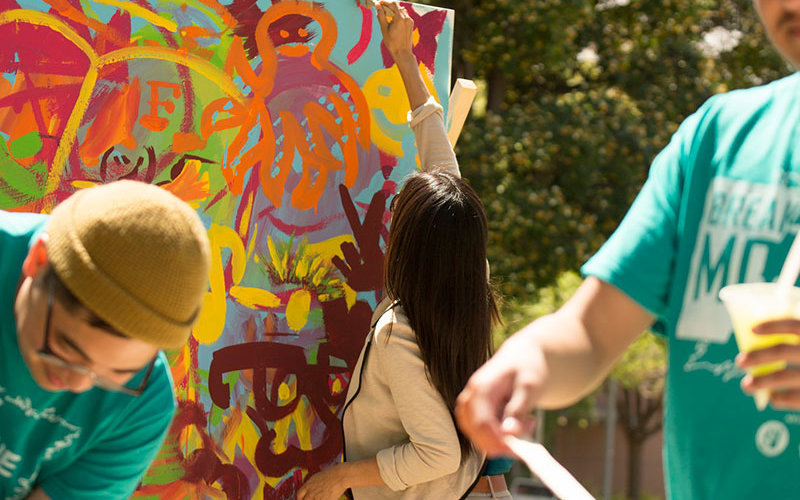 Music, theater, dance and all disciplines within the visual arts come together for Arts for Humanity April 7-13 throughout campus. This year's Arts Week provides a spotlight for Cal State Fullerton artists to show the spirit and results of the collaborative process within their fields. 
One of these artists, Marissa Medeiros, served as Arts Week's marketing coordinator. The art-graphic and interactive design major, who also is pursuing a minor in advertising, has been busy applying her skills in everything from designing much of the artwork to promoting the event on social media posts and even securing vendors. After graduation, she hopes to "apply all of these experiences to a graphic design position in an advertising agency," says the junior. 
Arts Week 2018 kicks off April 7 with the student-led "Botanical Delights of the Arboretum" exhibition. Other highlights:
Monday, April 9
Artist Seminar Series (Day One)
Noon – 1:30 p.m. Titan Student Union, Tuffree Rooms AB
The first of a two-part series features contemporary artists Mara De Luca and Phung Huynh talking about their work, the art-making process and how they achieved success. The second part of the series takes place at noon Tuesday, April 10, in Visual Arts, Building D, Room 175.
Tuesday, April 10 
Slice of Advice: Art Works
11:45 a.m.- 1:15 p.m. Titan Student Union, Tuffree Rooms AB
Five alumni from graphic design, illustration and animation share their experiences making a living as artists.
Reed-Making Master Class 
10:30 a.m.-12:30 p.m. Clayes Performing Arts Center, Room 127
Lara Wicks, principal oboe of the Pasadena Symphony, New West Symphony and the Santa Barbara Symphony, shows off her skills as a reed maker.
Wednesday, April 11
Master Glass Sculptors
4-5 p.m. lecture, Visual Arts, Room 175; 5-7 p.m. demonstration, Visual Arts, Room A-130
Master glass sculptors Karen Willenbrink-Johnsen and Jasen Johnsen offer insight and a demonstration of glass artistry.
Thursday, April 12
Improvisation Jam
6-8 p.m. Clayes Peforming Arts Center, Room 272
The improvisation jam, open to all dancers and non-dancers, invites people to move freely throughout the space and enjoy both physical and emotional stress release.
Friday, April 13
 
"Ca$h"
11:30 a.m.-noon, Clayes Performing Arts Center, Room 212
The devised theater piece, funded through a partnership with Bank of America and their Financial Literacy program, is entirely student-created. 
Children's Book Panel
7-10 p.m. Pollak Library, Room 130
The Pencil Mileage Club presents a panel in which professional illustrators give their insight into the world of children's literature.
A full schedule is available online.