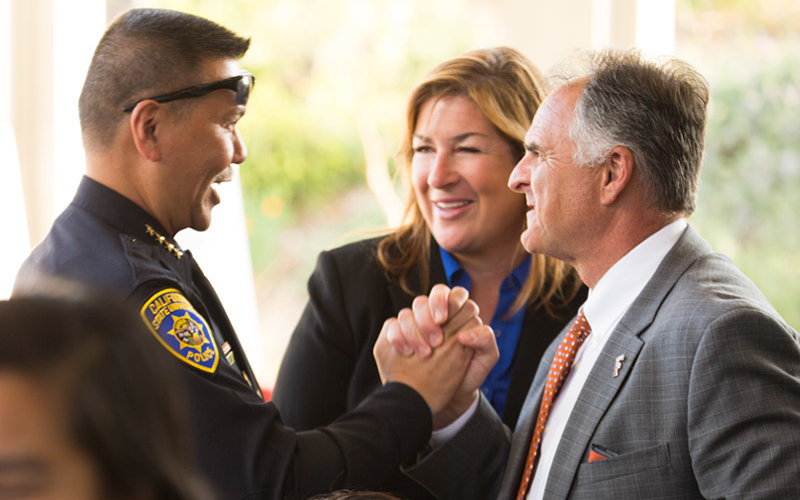 "I've found my niche," says University Police Chief Raymund Aguirre as he sits in his office at Cal State Fullerton. He has been on campus for just over a month and smiles about what brought him to the university after an already extensive career.
Aguirre joined the university's police force after serving as chief for the San Diego Community College District Police, the second-largest community college district in California, and San Jose-Evergreen College District. He also has served with the city of Palo Alto Police Department.
"I enjoy the ability to reach out to students," says Aguirre. "I've always felt that university policing was the pinnacle of my field."
He holds a master's degree in public and international affairs from the University of Pittsburgh, as well as a bachelor's degree from the University of the Philippines. Aguirre has served in various assignments as a police officer and supervisor in such areas as patrol, sex and financial crimes investigations, criminal intelligence and community policing. Throughout his career, he found common elements for success – "proficiency in your specialized area, and an ability to talk to and engage a variety of people from all walks of life."
The veteran chief says he thrives on challenge and sees himself as "a sponge, always learning."
And it's that sense of continuing education that he believes University Police can bring to its campus. Both the community colleges where he served and CSUF have similar population bases with many first-time college students, and their mission is the same: "It's public safety, a multipronged application of law enforcement, community policing" and education.
There are arrests, he says, but police departments must balance those with working with the community and informing community members on issues of safety and security. Aguirre is impressed with the CSUF department's efforts of developing relationships with students, faculty and staff members and looks forward to expanding them.
"I'm looking for those areas where we can improve and enhance the department," says Aguirre. "When it comes down to it, communication is the key. We have to own some of those perceptions — we are police officers — but we can improve on the overall perception. That's half the challenge.
"I'm a public servant. I'm here to serve just as my fellow officers are," Aguirre adds. "We are part of this campus community."