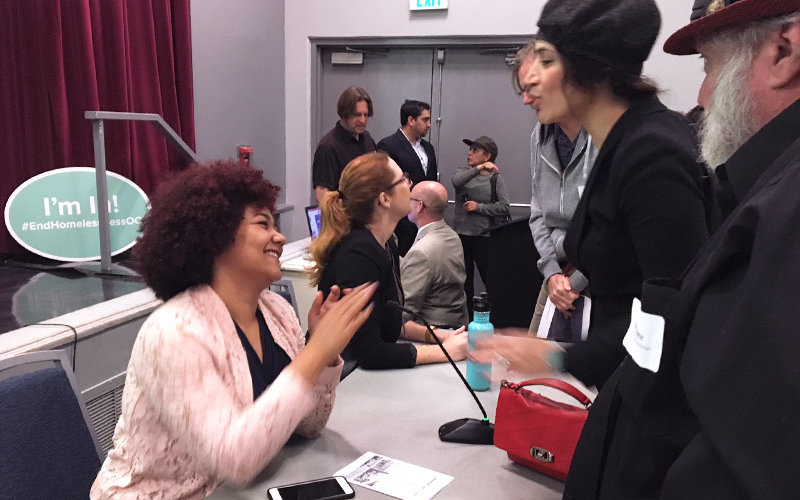 Nearly 200 people gathered at Cal State Fullerton Friday, April 27, for the "Symposium on Homelessness in Orange County," sharing information and opinions on the search for long-term solutions to an embroiled regional problem.
CSUF President Fram Virjee told attendees that the university is proud to be a facilitator in the regional discussion. When Jon Bruschke, professor of human communication studies, first proposed the program to the new president on his 43rd day, Virjee said he was confident that as an important community player and as an academic institution dedicated to research, analysis and policy examination, CSUF could spark the dialogue.
"I don't think there's any better place to talk about and collaborate on this issue than our university campus," he said.
The three-hour symposium began with brief summaries from the United Way and Kelsey Brewer '16 (B.A. political science) of the Association of California Cities, Orange County, on the county's $299 million annual tab to address homelessness. But the county could save about $42 million per year if all of the county's chronically homeless were placed into permanent and supportive housing, added Brewer, the association's legislative affairs manager.
The county needs to build or find 2,700 units to house its homeless residents, she said. Divided among its 34 independent cities, the task could become more manageable if spread out — 120 units in Fullerton, for example. But funding and land remain issues. The county also needs a regional hub, a housing trust, to manage the public and private funds, she added.
Many in the crowd agreed that discussions of shared goals to build long-term solutions, including affordable housing options, have new momentum because of the legal battles that resulted from the recent displacement of hundreds in a riverbed homeless community.
Rhetoric and rumors continue to criminalize the homeless and fuel arguments that the homeless population denies others of services, said Mohammed Aly of the Orange County Poverty Alleviation Coalition.  
But Justin Tucker, associate professor of political science and the director of the Center for Public Policy in CSUF's College of Humanities and Social Sciences, presented early findings in his ongoing survey to measure public opinion on homelessness that "fights against that idea of NIMBYism" and could counter the current, more vocal outcry at city council meetings, in opposition to proposed sites for homeless housing.
Tucker pulled the data about an hour and a half before the symposium, he said. "The preliminary findings say that there's a lot of support for solutions."
The email survey, in partnership with the United Way, began a week ago, and has only captured comments from half of its target 600 people. However, early results show that about 60 percent of respondents don't blame the county or cities solely, but believe homelessness requires a whole community response. About 67 percent favor long-term housing in their communities or several communities across the county.
Ultimately, the goal is to poll longtime residents — about 70 percent in north Orange County and 30 percent in the south. Tucker anticipates it will take 10 days to complete, and the United Way will publish the final report next month.
"Data is significant in driving the conversation," Hafsa Kaka, homeless services manager for Santa Ana, said in response to Tucker's presentation. "Data provides us with the numbers to see the patterns in the numbers, so we can connect regionally to see what solutions are out there."
Other talks and presenters focused on water, causes of poverty, students connecting communities, long-term housing and how CSUF is addressing its students' housing and food insecurities.
Titan Kamaria Sherow attended several discussions with her classmates Cynthia Santora and Ariana Ruiz in the human services course "Serving the Homeless." Sherow called the talks inspiring.
"You learn all this in a textbook and figure once you graduate you'll get a job trying to serve the homeless, but this helped me think of all the careers I can choose from and how to do more," she said. "It's important that students know all the challenges we face, if we're going to be the future leaders."