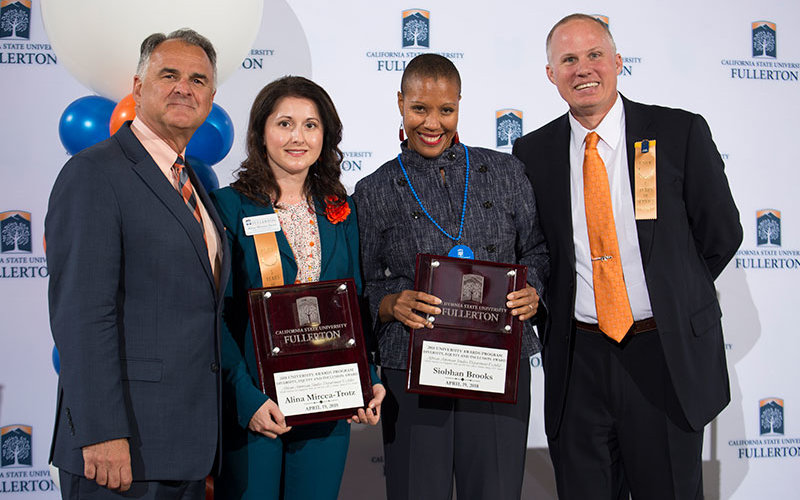 Curators of an exhibit highlighting the achievements of African American alumni who attended Cal State Fullerton in the 1960s-70s garnered the university's annual Diversity, Equity and Inclusion Award.
The fall 2017 exhibit, "African American Civic Engagement: 1860s and 100 Years Later Among CSUF Titan Alumni," featured memorabilia from the famed Buffalo Soldiers and university alumni. Its opening reception fostered meaningful dialogue between students, faculty members, staff, alumni and community members on the contributions of African Americans throughout history.
"The event gave students a chance to ask CSUF alumni questions about what ethnicity, racism and gender equality looked like 40 years ago, and draw connections to how these issues are addressed today," according to Stan Breckenridge '75 (B.A. music), retired lecturer in African American studies, and Siobhan Brooks, chair and associate professor of African American studies.
"At the same time, alumni were able to hear about current student experiences and offered their experience as positive reinforcement for dealing with the current social climate."
The honor, presented at the April 19 University Awards Program, recognizes such principles as a commitment to the spirit of diversity, positive interactions between people of different cultural backgrounds and a commitment to the inclusion of underrepresented groups on campus.
Jacques '76 (B.A. sociology) and Valerie Bordeaux '76 (B.A. communications) were among the 12 alumni featured in the exhibit.
"For me, this amazing exhibit captures vivid snapshots in time of a multifaceted history and rich legacy of the CSUF African American experience. I am honored and thrilled, along with my husband, to be a part of it," said Valerie Bordeaux.
Another honoree, Bobby McDonald '75 (B.S. physical education), is a descendent of the Buffalo Soldiers and provided much of the exhibit's memorabilia.
"Reflecting on my involvement with Cal State Fullerton over the years, the value of my education has grown exponentially because the school and its leadership have been on a steady course for academic excellence, cultural affirmation and business empowerment," said McDonald.
Guest book comments echoed the value of the display: "As a black student, it is very inspiring to see that CSUF has a rich black culture full of wonderful athletes, professors scientists, etc. This exhibit was very nice and I would love to learn more about black people's history in CSUF's history" and "Beautiful exhibit! Love the culture and inspiring stories right in the middle of campus for all to see."
In conjunction with the exhibit, the Department of African American Studies launched its first major fundraising initiative with the support of Alina Mircea-Trotz, director of development for the College of Humanities and Social Sciences. The African American Studies Vision for the Future Fund will  support the diversity of CSUF by providing students and faculty members with resources for high-impact activities, field trips and guest speakers.