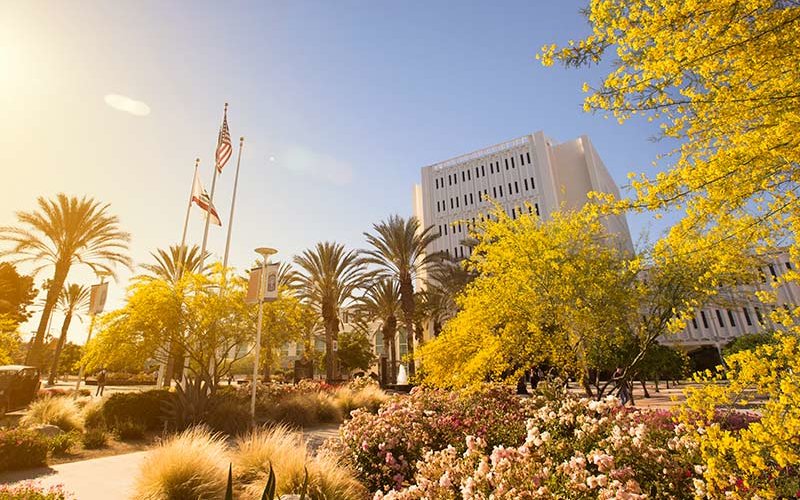 Cal State Fullerton faculty, staff and administrators have garnered more than $1.6 million in grant and contract awards for wide-ranging research — such as studies into infertility treatments and ovarian cancer, and dental care and underserved children with autism —  as well as program support, including a regional STEM Education conference and summer undergraduate research.
Among the awards:
Laura Gil-Trejo, director of the Social Science Research Center: $1,059,253 from the Sonoma County Junior College District on behalf of Santa Rosa Junior College for the "2018 Survey of Former Commer Community College Students" project. Gil-Trejo also received:
$84,893 Gannett Fleming Inc. award for "Public Response to the Oroville Dam Alerts and Warnings During February 2017" project;
$32,621 from CSU Dominguez Hills for the "Cal State Dominguez Hills Area: Registered Voters" project; and
$9,500 from the Children's Home Society of California for "Understanding the Experiences of Families Whose Children Are at Risk for Expulsion From Their Daycare/Preschool Program" project.
Alice Lee, assistant professor of health science: $119,051 from the Rivkin Center for Ovarian Cancer for her project "Exploring the Impact of Infertility and its Treatments on Risk of Ovarian Cancer."
Alison Marzocchi and Robert Soto, assistant professors of mathematics: $93,330 contract from the Association of Public and Land-Grant Universities for the "Faculty Learning Communities for Sustained Implementation of Active Learning in Calculus."
Yusheng "Chris" Liu, associate vice president of research and sponsored projects: $90,784 National Science Foundation award for "HSI Conference: Dissecting the STEM Education Ecosystem in Hispanic Serving Institutions: Regional Insights From Southern California."
Sheryl Fontaine, dean of the College of Humanities and Social Sciences: $42,639 from the Regents of the University of California for the "California Subject Matter Project-California International Studies Project-Fullerton-NCLB 14" project. Fontaine and Corrine Decapite, FIRST director, also received an additional $4,887 from the Regents of the University of California, Office of the President, for FIRST (Fullerton International Resources for Students and Teachers) 2017-18" project.
Rachel M. Fenning, associate professor of child and adolescent studies: $25,259 in third-year funding from UCI/HRSA for "Improving Participation in Dental Care and Oral Health Outcomes for Underserved Children With ASD (autism spectrum disorder)."
Nga Nguyen, associate professor of anthropology: $25,000 Leakey Foundation grant for the "Guassa Gelada Research Project."
David Pagni, professor of mathematics, and Andrea Guillaume, professor of elementary and bilingual education: $20,365 from the University of California Office of the President for "California Mathematics Project at CSU Fullerton."
Anil Puri, director of the Woods Center for Economic Analysis and Forecasting: $20,000 Orange County Transit Authority award for the "Taxable Sales/Economic Forecast for Orange County 2018-2020" project.
Jessica Jaynes and Valerie Poynor, assistant professors of mathematics: $12,856 Los Angeles City College award for the "LACC and CSUF Undergraduate Research Program Summer 2018."
Danielle Zacherl, professor of biological science: $10,000 from the California Sea Grant College Program for "In-Situ Filtration Services of Constructed Olympia Oyster (Ostrea Lurida) Habitat and Aquaculture Operations." Related: Almost-Extinct Native Oyster Could Become a Delicacy
Adrian Fleissig, professor of economics: $7,500 city of Santa Ana award for the "Economic Impact of Downtown on the City of Santa Ana."
Sinan Akciz, assistant professor of geological sciences: $5,000 University of Southern California award for "SCEC5 Collaboration With California State University, Fullerton" project. Related story: Earthquake Expert Prepares Next Generation of Earth Scientists
Risto Marttinen, assistant professor of kinesiology: $5,000 from St. Jude Hospital for the "Kinesiology 386 Services Learning – Project LEAP."
Jamila Moore Pewu, assistant professor of history: $4,989 Cal Humanities award for the "Mapping Arts OC" project.
Waleed Rashidi, assistant professor of communications: $2,000 from the Music and Entertainment Industry Educators Association for the "Play, Rewind, Play Again: Experience of Millennials' Usage of the Cassette Tape as Music Media" project.