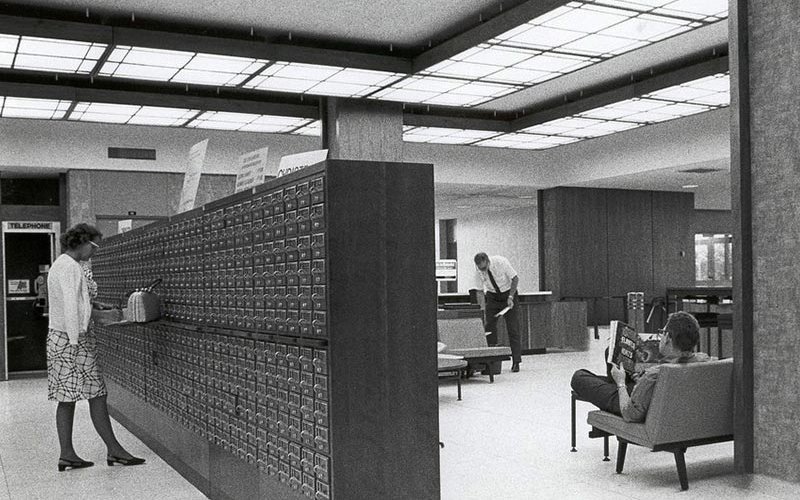 For nearly as long as there has been a university, there also has been a library — a place for the Cal State Fullerton campus and broader community to find new and rare books and also gather for activism, cultural and humanitarian activities.
The new exhibit "Pollak Library: 60 Years of Community Service" is a look back at the library as a member of the CSUF community and, in part, the services it has provided over the years.
Over the past six decades, the library has served as the "hub of the university," which is celebrating its 60th anniversary this year, and has played a pivotal role in CSUF's history, said Trish Campbell, library exhibit committee chair and program coordinator.
"I hope that people who visit this exhibit learn something that they never knew, and for the people who worked in the library and used the library, I hope they reconnect. There's such a rich history at Cal State Fullerton that goes beyond the walls of the library," added Campbell, curator of the exhibit.
"We are so much more than books. The idea is to think about, or consider, the library as a living breathing entity, since it, too, is a member of the community."
CSUF President Fram Virjee welcomed about 70 campus and community members at an April 7 reception of the exhibit. Special guests included library donor and namesake Paulina June Pollak, professor emeritus of English and comparative literature; founding librarian Ernest W. Toy Jr., university librarian and associate professor of history, emeritus; and members of the Patrons of the Library, a library support group since 1965.
Virjee cited two things he wants others to know about him as the university's new president: Students are his favorite part of the job, and the library is his favorite building on campus.
The library, Virjee added, has been the conduit for hundreds of thousands of Titans to discover and achieve their academic goals and life dreams.
The university's first library was in a building at Sunny Hills High School in 1959, when the institution was known as Orange County State College. By 1960, the library moved onto campus, and in 1963, it was housed in the basement of the science building, now known as McCarthy Hall.
As the fourth building on campus, with its concrete brutalist-style architecture façade, the library opened in 1966 with about 100 staff members to oversee the library's operations. Today, the library is undergoing a transformation as part of the  Library of the Future, or LOFT, a CSU systemwide initiative.
The exhibit, which continues through June 22 in the Salz-Pollak Atrium Gallery, is open during library operating  hours.  For more information about the exhibit, visit online.