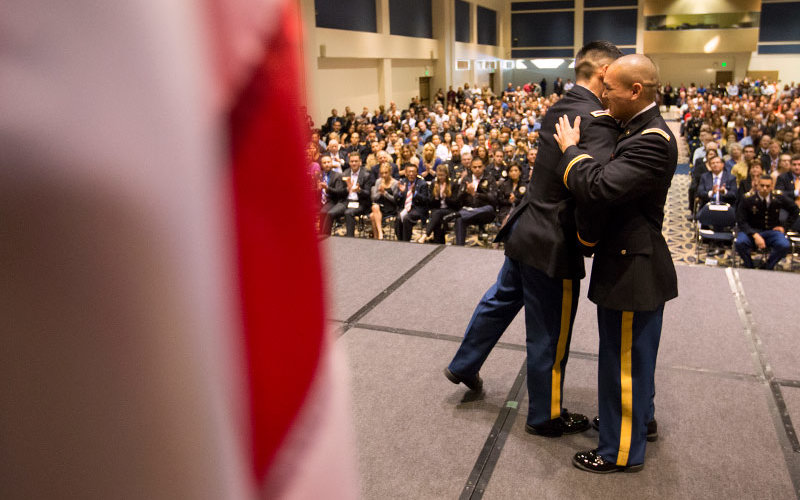 Eighteen U.S. Army cadets in Cal State Fullerton's Reserve Officer Training Corps will be commissioned for duty as second lieutenants at a May 17 ceremony. Once commissioned, most of the soon-to-be new officers will undergo up to a year of officer training, then report to their respective duty stations in the United States or abroad.
Keynote speaker will be Brig. Gen. Jeff Broadwater, garrison command at Fort Irwin's National Training Center. Broadwater has served in Haiti, Saudi Arabia, Kuwait and Iraq, has been assigned to the Army Review Boards Agency in Washington, D.C., and was deputy commanding general-support for the 1st Armored Division and CJ-5 for Resolute Support in Afghanistan. Broadwater holds master of science degrees in applied mathematics from the Naval Postgraduate School and national security and strategic studies from the National Defense University.
The ceremony will be held at 10 a.m. Thursday, May 17, in the Titan Student Union's Portola Pavilion.
Participants in the commissioning ceremony include cadets from other area universities and colleges in addition to CSUF. Cadets, who are completing bachelor's degrees, are listed alphabetically by educational institutions.
Cal State Fullerton:
Amanda T. Coleman, psychology
Bekjan Djaparov, political science
Arturo Gallardo Jr., political science
Elias E. Hernandez Romero, business administration-finance
Tyler J. Huey, communications
Joshua A. Klee, history
Daisy Larios, English
Octavio Magana Jr., business administration-business management
Suzanne Phan, business administration-finance
Joseph F. Sandoval, public administration
Garrett L. Sawtelle, business administration-marketing
Vanessa M. Sevilla, sociology
Vanessa N. Vasquez, chemistry
Sidonia M. Vega, criminal justice
Chapman University:
Megan L. Ernst, television and broadcast journalism
Robert B. Nelsen, political science
Vanguard University:
Joseph T. Allbaugh, psychology
Whittier College:
Jeffrey Y. Lee, psychology

For more information, contact the Department of Military Science at 657-278-3007.