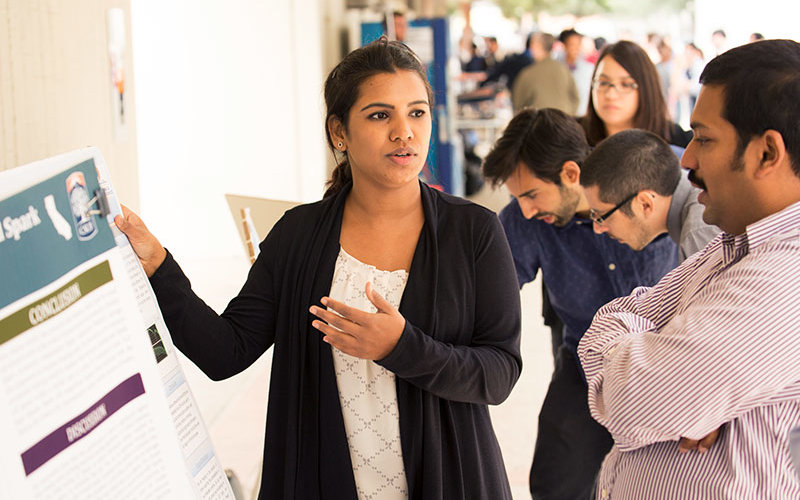 Cal State Fullerton will be represented by eight student researchers at the 32nd annual CSU Research Competition May 4-5 at Sacramento State.
The annual contest is held to promote excellence in undergraduate and graduate scholarly research and creative activity by recognizing outstanding student accomplishments from the 23 CSU campuses.
The eight Titans — from the sciences, arts, humanities, engineering and business — will join fellow student researchers to make oral presentations before juries of professional experts from major corporations, foundations, public agencies, colleges and universities in California.
CSUF's Graduate Student Competitors:
Vivek Anand Menon, mechanical engineering
"Molecular Dynamics Simulation Study of Liquid-Assisted Laser Beam Machining Process"
Mentor: Sagil James, assistant professor of mechanical engineering
Samarth Revankar, electrical and computer engineering
"Memory-Based Fault Tolerant Reconfigurable Solar Cells With Embedded CMOS"
Mentor: Rakesh Mahto, assistant professor of computer engineering
Undergraduate Competitors:
Shannon Chou, biological science
"Effects of Low-Tide Exposure on Photosynthetic Performance of Silvetia Compressa"
Mentor: Jennifer Burnaford, associate professor of biological science
Brittany Cook, biological science
"The Efficiency of Self-Pollination Vs. Outcrossing for Native Calystegia Macrostegia and Non-native Convolvulous Arvensis"
Mentor: Joshua Der, assistant professor of biological science
Juan Carlos Fermin, philosophy
"The Ethics of Belief in Uncertain Times"
Mentor: Andrew Howat, associate professor of philosophy
Marcel Jacquot, business administration-finance
"All Talk or Some Walk: The Relationship Between Stock Movements and Investor Attention on a Social Media Platform"
Mentor: Arsenio Staer, assistant professor of finance
Gillian Tatreau, dance
"Getting to the Pointe: A Socio-Historic Approach to the Performance and Progression of Ballet Styles"
Mentor: Muriel Joyce, lecturer in dance
Yucheng Yang, computer engineering
"Ultra-Low Power, Fast Response and Robust Autonomous Vehicle"
Mentors: Yong Seok Park, assistant professor of mechanical engineering, and Yu Bai, assistant professor of computer engineering