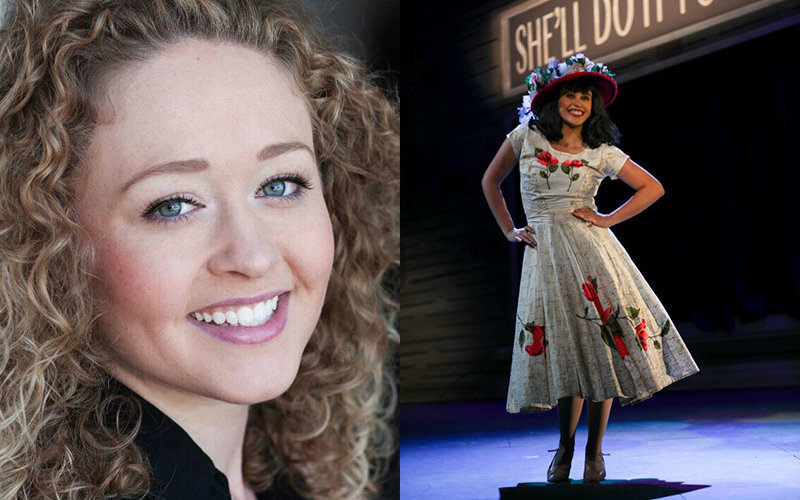 Late March brought mostly cold, blustery days in the northeast but a group of Titans was too busy to notice. After months of hard work, nine B.F.A. musical theatre seniors were finally in New York City for two 45-minute showcases at St. Luke's Theater on 46th Street — two opportunities to show their skills to agents, talent scouts and casting professionals.
Although official preparation doesn't begin until the start of their senior year, "this was the one thing we had all been working toward since our freshman year," says Kayla Contreras.
The B.F.A. Musical Theatre New York Showcase is a senior capstone project, one that often results in doors opening and curtains parting for Cal State Fullerton students. The showcase is produced by William F. Lett, lecturer of theatre and dance, and Mitch Hanlon, professor of theatre and dance, and is underwritten by the Marcy A. Mulville Memorial (MAMM) Alliance.
Planning, choosing songs and rehearsing starts early in the academic year. Solos, duets and group numbers are meticulously tackled, over and over again. "We got feedback constantly — from faculty and alumni," says Christopher Mosley, who just wrapped up Disney's "The Little Mermaid" on campus.
Contreras is no stranger to the stage. She has been performing the title role in "Ramona," California's official outdoor play, for the past three years, and chose "The Wizard and I" from "Wicked" for her solo. For her duet, she sang "Freedom" from "The Unauthorized Autobiography of Samantha Brown" with fellow student Samantha Wojtaszek.
"The material that we chose really showcased who we are as artists," says Contreras.
The group flew to New York on a Sunday night, did a tech rehearsal on Tuesday at the theater, then two shows on Wednesday. 
"Different agents came to each. When the agents come, they get a little book of headshots and resumes, and they get a callback sheet that they check off," explains Mosley. "After dinner, the professor pulls us aside and says, 'here are the ones that called you. Call them.' We hear who wants us to call them back. We all ended up with a sheet — sometimes agents, casting directors, managers." A few of them, he adds, were called back to read for a play that was being cast on the spot.
"Each of the students got at least one, often multiple, responses from agents," says Hanlon, who heads the B.F.A. Musical Theatre program. "Several students (including Mosley and Contreras) were contacted the next day for a private audition for the show 'Hamilton'." 
The last few days were spent calling agents back and setting up appointments … and meeting with alumni, who had plenty of advice to share. Alumna Devon Hadsell '14, who is currently making her Broadway debut in "Mean Girls," hosted a talk-back session with juniors and seniors, sharing stories of her career, including getting her Actors Equity card, auditions and callbacks. The students also were treated to a preview performance of the show.   
"I want to reach out to help fellow Titans because I remember what it was like being in their position and getting ready to go out in the world and wanting to pursue theater," says Hadsell. "I got my agent from the senior showcase they set up for us in New York … even if an agent doesn't come out of the showcase for a student, the ability to perform on a stage in New York and to experience the city itself is an extremely valuable opportunity."
"It's great to see people from our school out there working," says Mosley. "We think, OK, we can make it! We know people now … Even though we didn't go to school together, it's very much like a family."
Mosley is now fulfilling one of his dreams — to work on a cruise ship and see the world. He will be performing at sea for at least six months. Contreras will spend her summer as a train bandit at Knott's Berry Farm and doing regional theater.  
"What I took away from our time with alumni is that not everyone has a set path — and that's what the program has taught me, too," explains Contreras. "My end goal doesn't have to be to make it to Broadway or move to New York right after I graduate. Everyone has their own path and their own time."