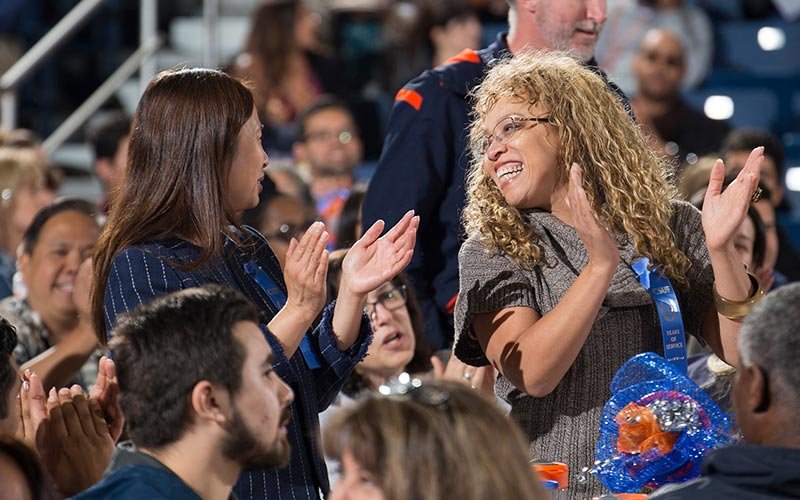 Recognizing the vision, leadership and service that fuels the work of the university, Cal State Fullerton faculty, staff and administrators gathered April 19 for the annual University Awards Program.
The celebration kicked off with breakfast, rousing music from the Titan Band and the fun of seeing CSUF President Fram Virjee and David Forgues, vice president for human resources, diversity and inclusion, along with members of the Spirit Squad, sending T-shirts into the audience.
"There is only one real source of orchestrating humanity and changing humanity, there's only one way to change lives and change legacies, and only one way that we can lift up communities and support communities — you know of course I'm talking about reaching higher through the power of higher education. That's what we do," said President Virjee.
"Nothing looks better than this Titan family wielding the transformative power that we have in changing lives with education. So I want you guys to give yourselves a hand.
"All of you have demonstrated to me what the Titan family really means," Virjee continued. "It's who we are in the classroom. It's what we do on the field. It's how we interact and care for, and care about, our communities."
Virjee also noted that the university is celebrating its 60th anniversary this year — a legacy of "supporting Titans reaching higher," but added that the awards ceremony was a time to recognize the excellence of Titan faculty and staff members.
"Of course, most importantly, it's all about you, the faculty and staff of this incredible institution," he told the crowd. "Every time I think that I can't be inspired one more time, I meet another faculty member or another staff member who inspires me with their story."
Kari Knutson Miller, provost and vice president for academic affairs, agreed. "Each one of you plays a vital role in the success of Cal State Fullerton through our commitment to student success both inside and outside the classroom and to a thriving Titan community. Our goal is to ensure that every Titan feels supported and inspired. The time and energy you have devoted to our students and our university is noted every day."
In addition to recognizing employees' years of service and achievement of advanced degrees, the awards program presented three campuswide awards.
Diversity, Equity and Inclusion Award
A team who created the exhibit, "African American Civic Engagement: 1860s and 100 Years Later Among CSUF Titan Alumni," was recognized this year for embodying the university's spirit of diversity, equity and inclusion. Stan Breckenridge, retired lecturer in African American studies; Siobhan Brooks, chair and associate professor of African American studies; and Alina Mircea-Trotz, director of development for the College of Humanities and Social Sciences, launched the exhibit and a special fundraising initiative to deepen connections between the community, alumni, students, faculty members and staff.
Teamwork and Collaboration Award
The Campus Speaker Working Group received this year's Teamwork and Collaboration Award for its leadership, planning, open communication and effective collaboration when a controversial speaker, who sparked numerous protests at other universities, visited campus. Members of the group include: Keya Allen, Jeff Fehrn (Associated Students Inc.); Michael Delo (Parking and Transportation); John Beisner, Michael Coughlin (Risk Management); Jeffrey Cook (Strategic Communications and Brand Management); Tonantzin Oseguera, Vincent Vigil (Student Affairs); and Carl Jones, Scot Willey (University Police).
Leadership Award
Pauline Tagle, director of the Office of Grants and Contracts, was honored with this year's Leadership Award for motivating staff, demonstrating high standards of integrity, and streamlining the office's ability to process 300 grant proposals each year. Helping the university increase its external grant revenue by 25 percent ($21 million to $26 million) over the last three fiscal years, Tagle and her team provided guidance, support and information from announcement of funding opportunities, submittal and review to negotiation with sponsors.
Graduation and Certificates Earned
Several staff members who earned advanced degrees were recognized, including:
Andrew Gonzales, Ed.D., University of Southern California
Inez González, Ed.D., Cal State Fullerton
Diane Mazzey, Ed.D., University of Southern California
Matt Olson, M.F.A. screenwriting, Cal State Fullerton
Abigail Segura, M.A. education, Claremont Graduate University
Valerie Sun, Ed.D., Cal State Los Angeles
Years of Service
With 45 years of service, custodian Michael A. San Roman led the class of those who have served the campus community for more than four decades.
Following him were two longtime faculty members: Anil K. Puri, director of the Woods Center for Economic Analysis and Forecasting, and Laurance Timm, professor and interim director of the School of Music, who have given a broad range of service from teaching in the classroom to administrative duties during their 40 years serving Cal State Fullerton.
35 years of service
Beatrice "Bunny" Casas, administrative analyst, Academic Programs
Maqsood Chaudhry, professor of electrical engineering
Bhushan Kapoor, chair and professor of information systems and decision sciences
Paula J. Selleck, associate director, news media services, Strategic Communications and Brand Management
Mostafa Shiva, professor of electrical engineering
Keith Wanser, professor of physics
30 years of service
Teresa E. Cabral, logistical services, Facilities Management
Enrique M. Chavez, plumbing shop, Facilities Management
Ning Chen, professor of computer science
David L. Duncan, library administration
Ann Naomi Ehl, Auxiliary Services Corp.
Lynne D. Funk, academic operations/support services, University Extended Education
Catherine Higa, Children's Center, Associated Students Inc.
Linda Stanton, professor of English, comparative literature and linguistics
Robert Voeks, professor of geography and the environment
25 years of service
John Beisner




Martin Bonsangue




Raul Camacho




Bryan Cantley




Monica Castro




John N. Chappell




Marilou V. Encina




Jade Jewett




Mikyong Kim-Goh




Patricia Laguna

Yuming Li




Eligio Hernandez




Lopez Martin Lorigan




Gail K. Matsunaga




Jennifer L. McCormick




Mark P Mealey




John Mearns




Yuan Ting




Bradley Van Mourik
20 years of service
Lucimar Acevedo




Jennifer D. Baldaray




Jon Bruschke




John Carroll




Amy L. Castaneda




Susan I. Cervantes




Amybeth Cohen




Robert E. Davis




Linda Fraser




Juan Gallego




Marco Polo Gutierrez




Pamela S. Hernandez




John Hickok




Kristi Kanel




Robert Kersey




Nathan L. Longcrier




Kenara Ly




Michael D. Marcinkevicz

Nathan L. Longcrier




Kenara Ly




Michael D. Marcinkevicz




Maria C. Mccray




Ronald Morris




Loan V. Nguyen




Wei-Cheng Peng




Catherine Perez




Christine I. Pircher-Barnes




Elena Quinto




Debra Rose




James Taulli




Jie Tian




Yvonne M. Velasco-Ortega




Lisa M. Wang




Candi Watkins




Jeanette Weir




Linda L. Wright
15 years of service
Maricela Alvarado




Scott Annin




Michelle Arsneault




Antonieta Bartter




Rahul Bhaskar




Ellen Caldwell




Kathleen Cariaga




Amy Coplan




Kristine Dennehy




Michael Dickerson




Matt Englar-Carlson




Mark S. Filowitz




Markus Fischer




Robert L. Flores




Joseph Forkan




Natalie Fousekis




April Franklin




Jacqueline Frost




Margaret Garber




Michele M. Garden




Susan C. Garofalo




Elizabeth Georges




Rickey Glenn Jr




Laleh B. Graylee




Charles Grieb




Heather Guzman




Javette Hayes




Holladean Y Hillman




Gabriel J. Ibarra




Mortaza Jamshidian




Changhyun Jo




Sara Johnson




Matthew Kirby




Mikhail Korzhev

Michael Lara




Susan K. Leavy




Mary A. Lehn-Mooney




Jarret Lovell




Vivek Mande




Mindy Mechanic




Valeria Moreno




Andrew L. Nguyen




Pamella H. Oliver




Rosario Ordonez-Jasis




Patricia Park




Melinda Pierson




Gregory Pongetti




Mallela Prasada Rao




Thomas R. Rahlfs




Celia Reynolds




Karen Kohrt Ringl




Tammy L. Rogers




Angeles Sancho-Velazquez




Hans Schenk




Heather L Snavely




Paul Stapp




Bogdan Suceava




John A. Tambio




Terri L. Thompson




Kyriakos Toyias




Sharnette M. Underdue




Roberto Valencia




Amanda N. Villagran




Mishu Vu




Sherri R. Wolff




Stacey Wong




Samuel Yang




Philippe Zacair
10 years of service
David W. Aguirre
Fatima Alali
Mardelle Azimi
Kimberly M. Ball
Tara Barnhart
Silvia Barrios
Jennifer S. Bergerson
Edward Betancourt
Lisa A. Bickmore
Alain Bourgault
April Brannon
Matthew Braun
Samuel Broyles
Todd Cadwalladerolsker
Matthew Calarco
Debra Cano Ramos
Lance E. Carr
Christina Carroll-Pavia
Benjamin Cawthra
Gary C. Chang
Orville Chapman
Carlton Chase
Monica N. Chavez
David Chenot
Alvin H. Chiu
Carolynn Coal
Rebecca Conran-Dunham
Kristin H. Cook
Ocena G. Corbin
Jennifer Crum
Math Cuajungco
William Cunliffe
Amy H. Dam
Dannaca L. Daniel
Fanny Daubigny
John Davis
Marilyn A. Dela Cruz
Mike Demars
Joseph E. Diaz
Andrew Dickson
Thanhtu T. Do
Barbara Doyer
Alison Edwards
Robert Engles
Russell Espinoza
Leslie W. Ewins
Anthony Feng
Brooke Fessler Owens
Sina Firouzi
Dianna Fisher
Howard Forman
Brent M. Foster
Amy Foust
Roben L. Frick
Cynthia Gautreau
Kiran George
Nahid (Nina) Ghazaee
Laura D. Gil-Trejo
Adelina Gnanlet
Aaron Goetz
Adam Golub
Erualdo Gonzalez
Jose L. Guerrero
Mohammadali Hani
Martha L. Hentschel
Judith Hervey
Sarah Hill
Jidong Huang
Paula Hudson
Amy M I
Zair Ibragimov
Anne James
Kristen M. Jasko
Debbie C. Jay
Christopher Johnson
Graham D. Jones


Pawel Kalczynski




Dolores L. Kimball




Christopher Kondo




Lisa M. Krause




Kevin Lambert




Patrick J. Launi




Robyn L Lechuga




Cheng Y. Lee




Patricia Literte




Leonardo Lopez




James E. Low




Oscar R. Machado Jr.




Shannette N. Madayag




Estrella S. Mangahas




Charlesetta Medina




Mark D. Mendez




Stephen Mexal




Maged Mikhail




Natalie M. Mir




Iris C. Miranda




Cari A. Morelli




Kristopher S. Mosser




Elizabeth E. Munoz




Janice Myck-Wayne




Inder-Mohan S. Nat




Melda M. Navarro


Jose Navas
Crystal L. Newman


Vincent K. Nguyen




Tu-Uyen Nguyen




Mitchell Okada




Heather Osborne-Thompson




Rita D. Page




Marcella Panuco




Dana M. Pape




Paula R. Parker




Debra Patterson




Priscilla A. Pena-Towns




Genesis Perez




Patricia Perez




Dawn R. Person




Christopher Peterson




Daniel M. Phillips




Zehava Purim-Adimor




Madeline Rasche




Debra Jean Redsteer




Veronica Rosas




Jasamin Rostamkolayi




Michael Shafae




Monique C. Shay




Terri Simonton




Heather Snavely




Myungsoo Son




Traci Statler




Jessica Stern




Michelle L. Tapper




Lorraine Thornburg




Yolanda R. Tijerina




Megan Tommerup




Ofir Turel




Israel R. Vasquez




Guillermina Vega




Jessica M. Wagoner




Todd L. West




JC Westgate




Sandra F. Wong




Christina M. Yanez




Jennifer Yee




Hassan Yousefi




Dawit Zerom




Tracey E. Zuno
5 years of service
Brittany N. Aase




Vahideh Abedi




Hilda V. Aboytia




Kazi Ahmed




Hector M. Alfaro




Rachael E. Amaro




Erick N. Ambrocio




Jorge Araujo




Adrian Avila-Alvarez




Maria Bedolla




Renee J. Bennett




Gabriela Best




Lorenzo Bizzi




Amanda M Borin




Adilio Borja




Leslie Bruce




Analia Cabral




Daniel T. Clavel




Michael J. Colapietro




Leticia Collins




James Collison




Raffaella Commitante




Selenia S Corado




Crystal Cortez




Jaycee Cover




Gwen L. Dack




Ana F. De Guzman




Marisela Delgadillo




Peter B. Donovan




Pauling Duong




Carolyn Dupaquier




Perry Dupuis




Lilia Espinoza


Armand Esquivel
David M. Forgues


Kristy Forsgren




Briana L. Fulfer




Patricia L. Gabel




Monica M. Garza




Gary Germo




Alexandra V Giron




Adam Glesser




Mikhail Gofman




Jason P. Goldsmith




Jennifer Goldstein




Christine Gonzales




Janna M Gray




Monica Hanna




Mark Herbst




Janette A. Hernandez




Brenda L. Hernandez




Joseph B. Horodyski III




Cherie Ichinose




Veronica Jimenez Ortiz




Jeffrey Jolly




Yan Kang-Abreu




Charlene W. Keith




Yuna Kim




Yenlan Li




Sissi Li




Lauren M. Lopez




Geoffrey Lovelace




Vanessa A. Lowe




Carol Lundberg




Christopher Lyons




Ladan Maleki




John K. Marino




Summer Martin




Solomon Massin




Lashawn R. Mccombs


Larry A. Mcgee
Alina C. Mircea-Trotz
Phoolendra Mishra

Sara V. Mouw




Betty D. Neri




Irving A Nguyen




Alfredo Nieto




Gabriela Nunez




Stephen O'Connor




Julie Orser




Hema Paliwal




James Parham




Marilyn Parras




Gregory D. Paules




Roxane J. Perez




Jennifer Piazza




Amanda Pinedo




Jeffrey W. Polunas




Aaron Popp




Rachel Pound




Anthony Quiroga




Kristin M. Rabbetts




John S. Ramirez




Alvin Rangel-Alvarado




Jocelyn Read




David A Reed




Michael J. Roberts




Nina Robson




Angel Rodriguez




Gina L. Rodriguez




Gregory Rogel




Magdalena Roman




Christopher L. Romo




Donna M. Roth




Gregory J. Saks




Maria D. Salazar




John M. Salinas




Carlos E. Sanchez




Joshua Sanchez




Marla Sanchez




Nydia Sandoval




Andrea R Schmid




Tracy A. Shadowens




Rebecca Sheehan




Kulsoom Sizar




John Smith




Darryl Smith




Baatar Sodnompel




Susana Soqui-Lopez




William Sprinkle




Garrett Struckhoff




Justin D. Sturdivant




Patrick M. Sullivan




Brittney Swanson




Berhanu B. Tadesse




Stephanie M. Tancredi




Anne-Margaret Tovar




Christopher Tracy




Lan T. Tran




Nhu Y. Tran




Yuying Tsong




Nathan S. Van Diggele




Gregorio Vasquez Vidal


Juan Villafuerte
Anthony J. Villanueva


Jacquelyn A. Villasenor




Haowei Wang




Michael W. Wilcox




Tiffany N. Zanias




Dereck Zara




Marina J. Zarate




Fang Zhang