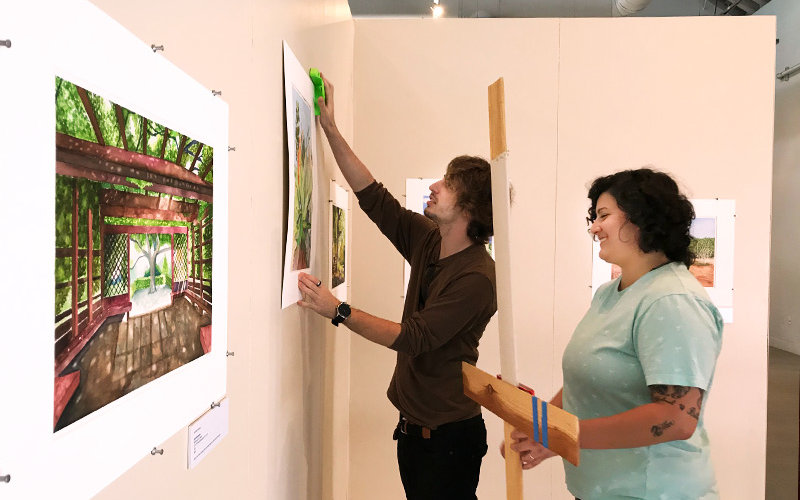 A watercolor painting class has become something more as students engage not only in the creative process, but also in the final presentation of a gallery exhibition and public reception.
Opening officially April 14 and continuing through May 13 is "Botanical Delights of the Arboretum," an exhibit of works by art students taught and guided by Lawrence Yun, professor of art. The exhibit will be opened as the Saturday, April 7, kick-off event of the College of the Arts Week activities.
"This show is an inclusive exhibition that allows everyone in class to participate, as opposed to a juried or curated exhibition where often only a handful of students are selected," says Yun. "It gives everyone a valuable opportunity to practice the whole aspect of being a working professional, from creating to presenting, pricing, marketing and selling their work."
The exhibit is "an educational experience in itself," says senior art-drawing major Denise Otterbach. "Learning how an art show is set up, being involved and having art in the show, is like getting my feet wet for future exhibits."
Irene Sauceda, whose work graces the exhibit invitation, agrees. "I believe as an artist, it is important to network and branch out in order to showcase your work."
"Besides the required formal technical elements of a landscape painting that features foreground, middle ground and background, students also are expected to capture the vibrant colors, to set the mood and to interpret with individual aesthetic," says Yun, a noted watercolorist. From the painting and techniques lessons, Yun led students in a discussion on titling their painting, writing about their chosen scene and pricing their art.
"It's hard for them," he explains. "They don't yet grasp the value of their time, talent and the product. Many of my students have never experienced marketing their work, or even considered selling it, but it is an important aspect as an artist."
Yennhi Nguyen found that out. Not only did she have to figure out how much time she spent to create her painting using a new medium rather than oils, but also evaluate the quality of her work. "I felt conflicted," she admits.
This week, they learned about setting the exhibition 'stage': from the color of the walls and placement of lighting to the hanging paintings.
"Being part of the team to install and put up our work was definitely important," Nguyen says. "It gave me the chance to experience how to install display artwork correctly and neatly."
When the doors open, the artists will become docents, sharing why that scene, those colors and the techniques were used in the creation.
"This is where they learn while they talk," says Yun, noting that this is the ninth exhibition of student work showcased at the Arboretum.
"For me, the most important thing from the experience is the exposure," notes Eduardo Torres. "I did not expect to be put in a show … but I think it is also a very important aspect (of being an artist). You can prepare someone for a situation, but without actually putting them in it, they can't really ever know."
"This is my final year at CSUF and being able to promote my work like this is really beneficial," says Julia Slipp, a senior art major focused on becoming a teacher. "I would like inspiring artists and art lovers out there to know that collaboration is important in the art world. It's a beautiful show and I feel so accomplished being a part of it."
"Botanical Delights of the Arboretum" is open to the public from noon to 4 p.m. Wednesdays and Fridays-Sundays in the Orange County Agricultural and Nikkei Heritage Museum on the grounds of the Arboretum. An artist and Fullerton Arboretum Member reception is slated 2-3:30 p.m. Sunday, April 29.