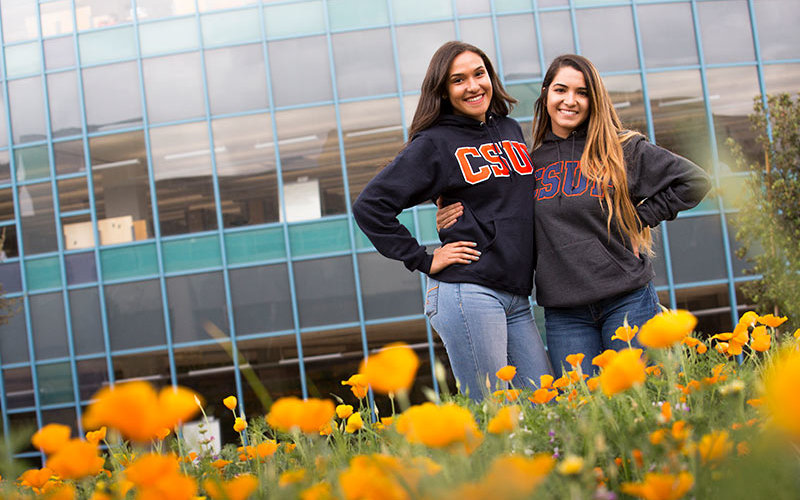 Nearly 10,000 admitted students and their families are expected to attend the Saturday, April 14, Welcome to California State University, Fullerton Day and learn more about registration, housing and campus life, as well as to participate in tours of the campus.
The group includes more than 3,000 students admitted to CSUF for the fall 2018 term. Faculty members from each of CSUF's eight colleges will attend and each major will be represented at the Titan Experience Fair, along with over 60 student organizations and 40 student services departments. The one-day event also offers prospective students and their parents workshops on the Titan experience, financial aid, how to thrive during the freshman year, and how to connect with other parents through the Titan Parents Association. Food trucks will gather, offering lunch options.
"We are thrilled to roll out the 'orange and blue carpet' for our admitted students and their family members and invite them to experience our warm and welcoming campus," said Darren Bush, interim associate vice president for student affairs/student transitions. "We understand that choosing the right college is a life-changing experience, and we want students and family members to explore the possibilities that CSUF offers and see themselves being successful on our campus."
Admitted first-time freshman students have until May 1 to formally accept CSUF's offer of admission, and transfer students have until June 1 to accept. Both groups may accept the offer of admission at the Pollak Library, during Saturday's event. 
For event registration, workshop outlines and a detailed schedule of the day, go to the Welcome to California State University, Fullerton Day website.