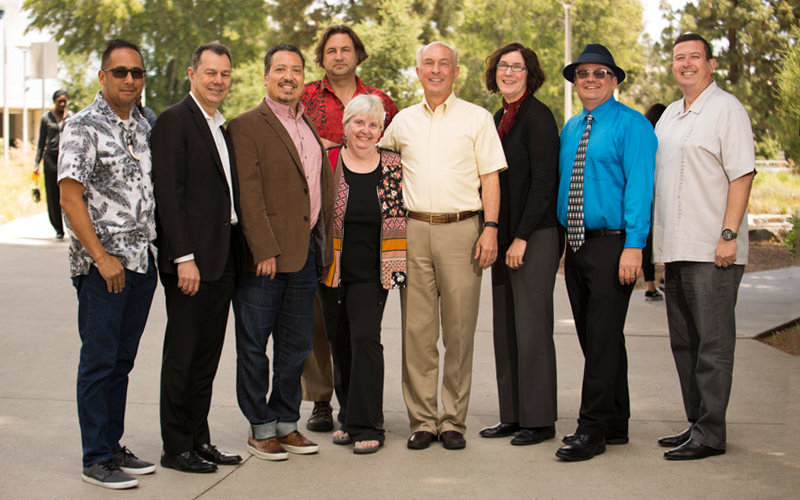 Mark Hoven Stohs, professor of finance in Mihaylo College of Business and Economics, was elected by acclamation Thursday, May 17, to chair Cal State Fullerton's Academic Senate for the 2018-19 academic year.
A 22-year campus veteran, Stohs has served as Finance Department chair, associate dean for the college, director of the Business Honors Program and chair of the college's faculty senate. He has been a member of the Academic Senate's Planning Resource and Budget Committee, the key forum for discussions to help shape budget decisions ultimately made by the university president, and currently serves not only on the campus senate but is a member of the California State University Academic Senate.
Following his election to lead the senate, 2017-18 chair Stephen Stambough called Stohs to the podium and handed him the chair gavel, joking that the transition was "that short."
Stohs then presided over the election of the other members of his executive board:
Vice chair — Alexandro Gradilla, associate professor of Chicana and Chicano studies
Secretary — Nancy Fitch, professor of history
Treasurer — Amir Dabirian '85, '88 (B.S., M.S. engineering-electrical), vice president for information and technology and chief information officer
Members-at-large — Michael Perez, professor of sociology; Katherine Powers, associate professor of music and director of the Strengthening Opportunities, Access and Resources (SOAR) program; and James Rodriguez, professor of child and adolescent studies
 
Serving on the statewide Academic Senate are: 
Jon Bruschke '88, '90 (B.A., M.A. speech communication), professor of human communication studies
Shahin Ghazanshahi, professor of electrical engineering
Mark Stohs, professor of finance
 
The Academic Senate develops, formulates and reviews educational and professional policy that becomes university policy if approved by the CSUF president. Besides faculty members, its membership includes administrators, two representatives from Associated Students Inc. and two staff members.