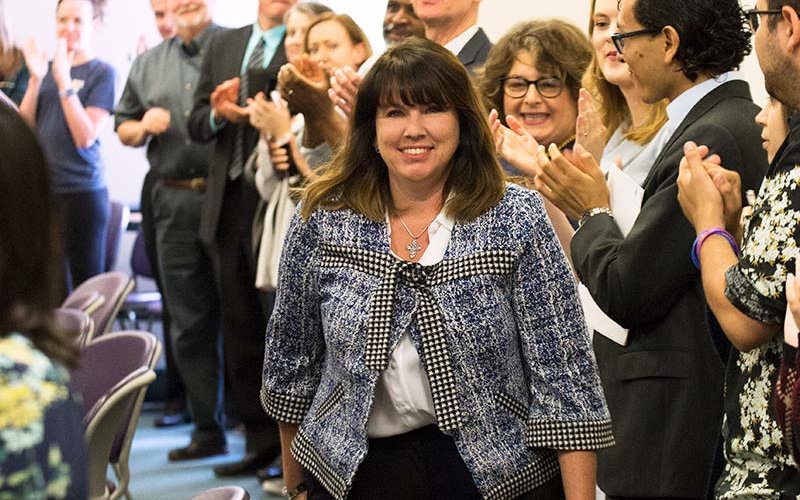 Cherie Ichinose's students praise her passion for mathematics, her ability to explain difficult concepts clearly and her mentorship outside of the classroom to help them learn and teach math.
Ichinose's colleagues are equally complimentary, citing the mathematics educator as a leader and student-centered educator who is committed to student learning — whether it's a student taking college algebra to meet general education requirements, or an advanced course as part of their teacher preparation to teach middle school or high school math.
For Ichinose's record of demonstrating academic rigor in teaching and to Cal State Fullerton's educational mission, she was honored May 10 with the university's Carol Barnes Excellence in Teaching Award at the Academic Senate meeting.
CSUF President Fram Virjee, who presented her with the award, called her a trailblazer in narrowing the achievement gap through her innovative online and "flipped" classroom course offerings, which help to remove barriers and boost student achievement.
"Her teaching and mentorship has come full circle," Virjee said.
Colleagues call Ichinose, associate professor of mathematics and a CSUF alumna, a natural choice to work with teacher candidates and an individual who is committed and effective at teaching.
"She is a gifted and dedicated teacher, as well as an engaged researcher," said Martin V. Bonsangue, chair and professor of mathematics. "She has established herself as a leader in the mathematics community throughout the California State University system — and beyond."
Ichinose earned her bachelor's and master's degrees in mathematics at CSUF and also completed the single subject credential program in math. She earned her doctorate in education from Claremont Graduate University in 2011. Before she began teaching at the university in 2008 as a lecturer, she was an online mathematics instructor and a math teacher at Capistrano Valley High School. She was hired in 2012 as a tenure-track professor.
My career as a mathematics teacher is dedicated to strengthening student success in mathematics at every level — and for every student. — Cherie Ichinose
Ichinose shared that she is honored to receive the award, especially in teaching, from her alma mater, and as an undergraduate and graduate student, she is grateful for the support she received from faculty members.
"Now, as an untenured faculty member, I have received tremendous amounts of support from the Mathematics Department to try new and innovative ways to make mathematics accessible," she said. "I love watching my students grow in their mathematical understanding and continue to thrive when perhaps the problems seem hard."
Her students also credit her for inspiring their own teaching and for going above-and-beyond in mentoring future teachers.
"Dr. Ichinose's experience as a high school teacher was evident by the advice she gave me. She was always very straightforward and unbelievably supportive," said Capistrano Valley High School math teacher Candice Harrington, who also is a CSUF lecturer in mathematics. "I credit most of my success to Dr. Ichinose's guidance."
Sonora High School math teacher Kenneth Eaves, a graduate student in the mathematics-teaching option program, also said he models his own teaching after his mentor's.
"She always has different activities that genuinely help students learn and understand, and she is incredibly innovative in her approach to teaching," Eaves said. "Dr. Ichinose loves what she does and always enters the classroom with an inviting warmth and 'ready to go attitude,' unparalleled to any other professor I've ever had at CSUF."
As coordinator of the single subject credential program in mathematics, Ichinose teaches, recruits and advises future secondary mathematics teachers.
"Dr. Ichinose has been the face of CSUF math at many area schools in which our student teachers are placed or have gained employment," Bonsangue noted.
Ichinose is not only lauded for her work with teacher credential students, but also for developing a "flipped" classroom model to boost math learning and creating cutting-edge online mathematics courses.
The flipped and online courses designed by Ichinose are being implemented at sister campuses throughout the CSU to improve student persistence, shorten time to graduation and narrow the achievement gap.
Her research focuses on the learning of mathematics through online instruction and her goal is to make mathematics accessible to all students. She has numerous peer-reviewed publications, including the article "Flipping College Algebra: Effects on Student Engagement and Achievement" in The Learning Assistance Review.
Ichinose also mentors undergraduates on their research and senior honors projects, and is the faculty adviser to SMART Girls, which provides female math majors with support, resources and advice. She has received numerous awards for her work, including the 2017 Outstanding Teaching Award from the College of Natural Sciences and Mathematics.
"My career as a mathematics teacher is dedicated to strengthening student success in mathematics at every level — and for every student," Ichinose said.