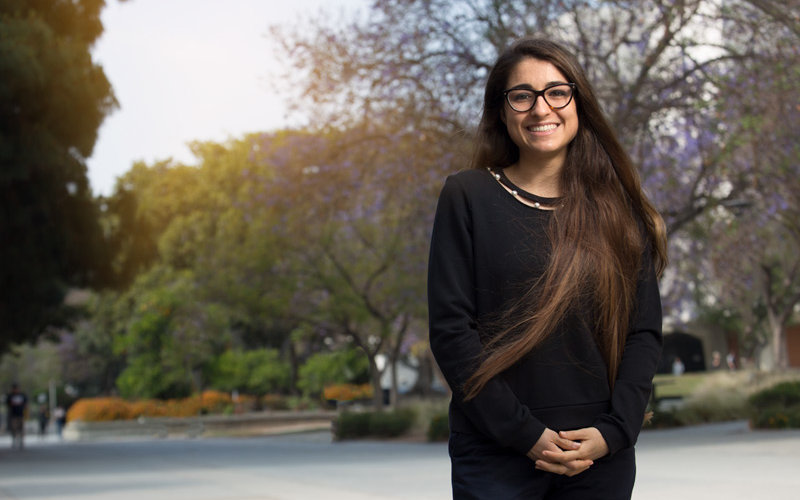 Four Cal State Fullerton graduates who explored the world of big data through a National Institutes of Health funded program will be taking on new challenges and opportunities  in doctoral programs.
"Big Data Discovery and Diversity Through Research Education Advancement and Partnerships," is an effort to expand students' exposure and knowledge of big data through research, education and collaboration. Through a two-year program directed by Archana J. McEligot, professor of health science, undergraduates are learning how to use large amounts of data — i.e. big data — as well as how to make sense of it, process it and archive it.
As participants in the program, the BD3 Scholars receive hands-on research experience with faculty mentors and summer research experiences.
"I was a part of a research project on carbonated beverages and the impact that their consumption has on one's nutrition quality index and overall health," says Emma Navajas, who completed her degree in health science and will be entering the doctorate in epidemiology program at the University of North Carolina at Chapel Hill in the fall. "Some of my responsibilities included developing original research questions; downloading, cleaning, organizing and restructuring data from the National Health and Nutrition Examination Survey; and running statistics that delineated participants' characteristics, including body mass index and age."
Navajas also prepared and presented four poster presentations on the research topic, and wrote portions of a research article on the research she and her mentor conducted and its implications for publication.
"Experience with data, statistics and compilation of such data, puts these students ahead when it comes to graduate school and career options," said McEligot. "Overall, what these students gained as undergraduates is unparalleled."
Other Big Data Scholars going on to doctorate programs this fall are:     
Shaina Sta. Cruz, a communicative disorders graduate, has been accepted into a doctoral program at UC Merced;
Stephen Gonzalez, a psychology graduate, will be attending the doctoral program in neuroscience at USC; and 
Silvia Orozco, biological science-molecular biology and biotechnology graduate, will be attending the University of Chicago.
 
"Being a part of the Big Data program has opened many doors for me and has granted me the opportunity to expand and refine my research abilities," Navajas says. "My participation in the Big Data program solidified my drive to pursue research as a career and taught me many valuable skills, such as analyzing data and writing manuscripts, that I am certain I will use in my upcoming graduate studies."
Navajas hopes to continue to conduct research in the area of nutritional and cancer epidemiology, "but I also hope to expand my horizons into other areas of the field, as well."
In addition to the Big Data Scholars, big data concepts have been introduced into several existing CSUF courses to give more students the opportunity to explore, analyze and understand vast amounts of data.  
"I hope that the program can continue to inspire undergraduate students to not only conduct research, but also apply their skills and knowledge to make the world a better place for all," Navajas added.