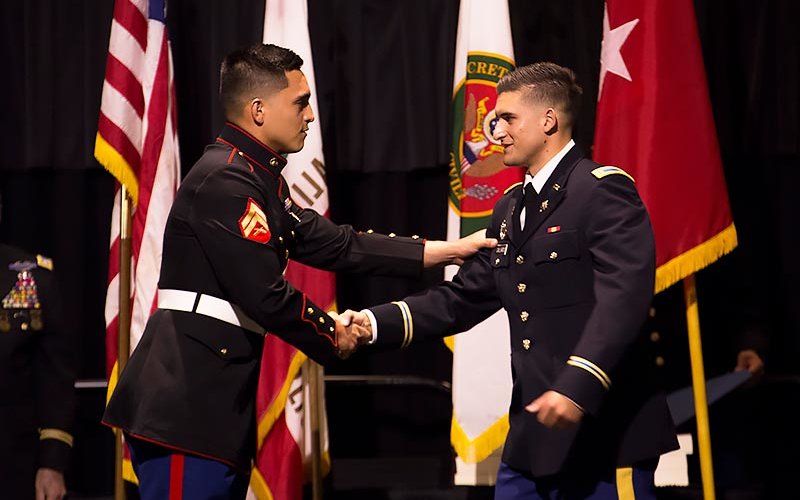 It was a day to remember for 18 ROTC cadets who were commissioned as second lieutenants in a special May 17 ceremony before family, friends and supporters.
The officers, who completed their bachelor's degrees from Cal State Fullerton or other local universities, will soon begin a year of officer training at military bases throughout the U.S. prior to deployment.
"You have not pursued an easy path," said Laurie Roades, dean of the College of Health and Human Development, to the cadets. "Thank you for your commitment and leadership. You will always be a part of our ROTC family and I hope you always see Cal State Fullerton as your home."
Keynote speaker Brig. Gen. Jeff Broadwater, garrison command at Fort Irwin's National Training Center, also complemented the new lieutenants. "You are joining the most rewarding profession in the world," he stressed. "It is not an easy job. You must go through an endless evolution, constantly learning."
Broadwater also gave three recommendations: "Always desire to be better, be a great teammate and make your platoon the best it can be; listen — every good leader must listen and humility is also important; and have fun — you will make great friends and have great relationships."
"We know, and you know, that these cadets wouldn't be here today without you and your support," said Major Jesus Cruz, chair and professor of military science, to friends and family.
That sentiment was echoed as family members joined their sons and daughters on stage to pin the second lieutenant ranking on their uniforms.
Bekjan Djaparov, a graduating political science major from Cal State Fullerton, thanked his mother for her dedicated support, telling the audience that for two years, when he woke up at 4:30 a.m., his mother got up with him, making him coffee and a sandwich.  
Each cadet recited the oath of office and then gave their "first salute" — a tradition in which the newly sworn officer salutes their adviser or other mentor. Amanda Coleman and Tyler Huey of Cal State Fullerton saluted their fathers, while Megan Ernst from Chapman University saluted her uncle.
The new second lieutenants and the fields in which they are completing bachelor's degrees, by university, are:
Cal State Fullerton:
Amanda T. Coleman, psychology
Bekjan Djaparov, political science
Arturo Gallardo Jr., political science
Elias E. Hernandez Romero, business administration-finance
Tyler J. Huey, communications
Joshua A. Klee, history
Daisy Larios, English
Octavio Magana Jr., business administration-business management
Suzanne Phan, business administration-finance
Joseph F. Sandoval, public administration
Garrett L. Sawtelle, business administration-marketing
Vanessa M. Sevilla, sociology
Vanessa N. Vasquez, chemistry
Sidonia M. Vega, criminal justice
Chapman University:
Megan L. Ernst, television and broadcast journalism
Robert B. Nelsen, political science
Vanguard University:
Joseph T. Allbaugh, psychology
Whittier College:
Jeffrey Y. Lee, psychology