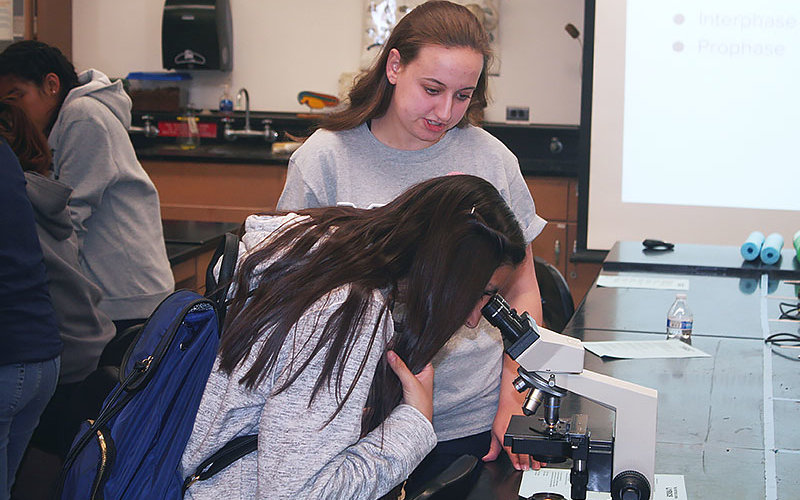 Inside a classroom on the sixth floor of McCarthy Hall, biological science student Sarah LeGaspe used an understandable way to teach basic evolutionary science of how a species, or in this case, a variety of chocolate bars, are related to each other.
The lesson about evolutionary trees was part of the recent "Catalyze Science!" event, where 119 female students from Carr, McFadden and Spurgeon intermediate schools in Santa Ana came to Cal State Fullerton and participated in hands-on science and technology activities to increase their awareness of careers in STEM (science, technology, engineering and mathematics).
"Evolution is a difficult subject to grasp," LeGaspe said. "We developed a lesson to dispel misconceptions and to make learning about science fun."
About 50 undergraduates and teacher credential students participated in the event. Undergraduates from the colleges of Natural Sciences and Mathematics and Humanities and Social Sciences designed and taught the science and engineering lessons, while College of Education credential students observed the lessons and provided detailed feedback to the undergraduate instructors. Lessons also focused on topics such as cell division, adaptation in predators and prey, the engineering design of airplanes, ecosystems, and heredity and mutations.
"These lessons highlight topics and research that are central to the STEM programs on campus and incorporate research-based instructional practices," said Joel K. Abraham, associate professor of biological science and director of CSUF's Catalyst Center for the Advancement of Research in Teaching and Learning Math and Science, which teamed with Student Affairs' Educational Partnerships to host the program.
"All the lessons presented align to the state's Next Generation Science Standards and support broadening the middle school students' science literacy."
For the CSUF students, many of whom many plan to pursue teaching careers, the opportunity to learn lesson-plan development and deliver classroom presentations helps to support their STEM career goals, said Megan Tomerrup, lecturer of biological science and science education and credential preparation coordinator.
"It was a chance for students to become comfortable with teaching science and engineering — and not be afraid of it."
The schools were selected because of CSUF's long-standing collaboration with Santa Ana Unified School District as part of the Santa Ana Partnership — an effort between CSUF, Santa Ana College and UCI. Catalyze Science was made possible by a grant from United Way's Destination Graduation initiative to boost high school academic success, said Adriana Badillo, interim director for CSUF's Educational Partnerships.
"The Santa Ana Partnership and United Way's Destination Graduation aim to increase student achievement, college-going rates and success in higher education," Badillo said. "The major benefit for the girls was to experience STEM in a higher education setting and expose them to educational and career opportunities available to them beyond high school."
LeGaspe, studying marine biology and planning a career teaching high school science, hopes she sparked the girls' interest in science.
"More and more women are becoming scientists. I hope they realized that if you want to be a scientist, you can," LeGaspe said.