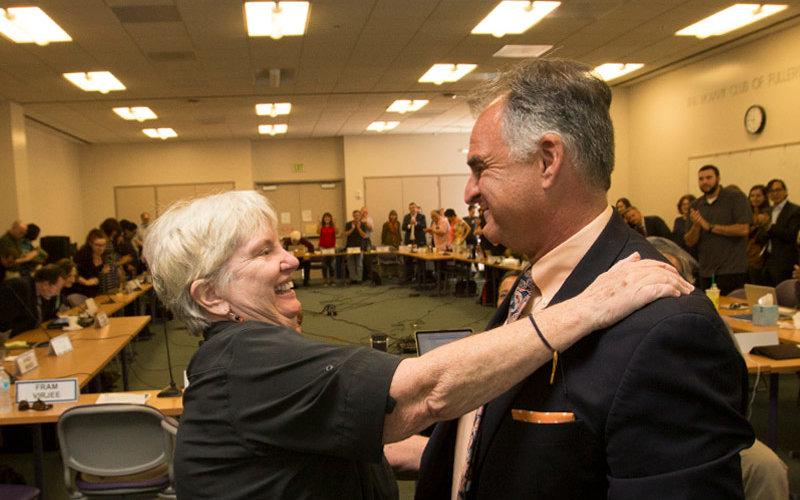 Colleagues of Nancy Fitch express the power her presence brings to a room, never afraid to speak the truth and always committed to championing students' needs.
They use words like "mentor," "generous," "hard-working" and "caring" to describe her and say the professor of history's three decades of university service — notably, more than 20 years on the Academic Senate and five terms on its executive committee — have played an important role in making Cal State Fullerton the institution it is today.
For her outstanding record of leadership, which also includes chairing the Department of History and serving on countless campus committees, Fitch is the recipient of the 2017-18 Faculty Leadership in Collegial Governance Award.
Presenting the award to Fitch during the May 10 Academic Senate meeting, CSUF President Fram Virjee recognized her long history of giving back to the institution. "She's the queen of committees. I don't know that there's a committee she hasn't served on," he said, applauding her eagerness to share successes with colleagues.
"There is no 'I' in team, and she is a perfect example of someone who leads in that way," said Virjee. "Leadership, in my book, is all about sharing credit and giving credit, and she has done that every time."
In several letters of recommendation, fellow professors of history pointed to Fitch's energy and collaborative spirit, "always encouraging us to cultivate our dreams to become better teachers and researchers," according to Jessica Stern, and "always working to mentor newer faculty members to get them involved in shared governance on this campus," according to Gayle Brunelle.
Alexandro Gradilla, associate professor of Chicana and Chicano studies, called her a "role model for faculty service" and praised her "unrelenting support for all ethnic studies and women and gender studies" programs — further evidenced by her endowed scholarship for students, the "Nancy Fitch Scholarship for Women's History and Gender Studies Award."
While serving on the General Education Committee, Fitch "excelled at guiding discussions, considering alternative possibilities, offering explanation," shared Reyes Fidalgo, professor of modern languages and literatures.
"Her assistance and collaboration helped keep the committee on track and meet established deadlines with a final product with which everybody was satisfied," wrote Fidalgo, adding, "I still think of that experience as one of the most meaningful experiences I had in committee work."
"She's the queen of committees. I don't know that there's a committee she hasn't served on."

– Fram Virjee, CSUF President
Fitch joined the university's faculty in 1986 and has taught more than 20 courses to date, 10 of which she helped add to the curriculum.
"While she's known as a history expert, she is literally a history maker," said Virjee, noting Fitch's efforts to broadening the department's focus from western civilization to world civilization.
Leila Zenderland, chair and professor of American studies, called Fitch's influence profound, sharing how her "mastery of emerging historical fields" has led to "path-breaking" new courses, the hiring of two digital historians and the creation of a multimedia history lab.
"I by no means want to take sole credit for many of the things I believe I have accomplished here," shared Fitch. "I have been deeply committed to service during my entire 30 years at CSUF, not so much out of aspirations of being a leader, but because I have believed in working collectively to make CSUF a high-quality institution that everyone can be proud to work in."
Fitch holds a doctorate in history from UCLA, as well as bachelor's and master's degrees in history from San Diego State University. In 2012, she received both the Humanities and Social Sciences Outstanding Service Award and the History Department's Outstanding Teaching and Service to Students Award.