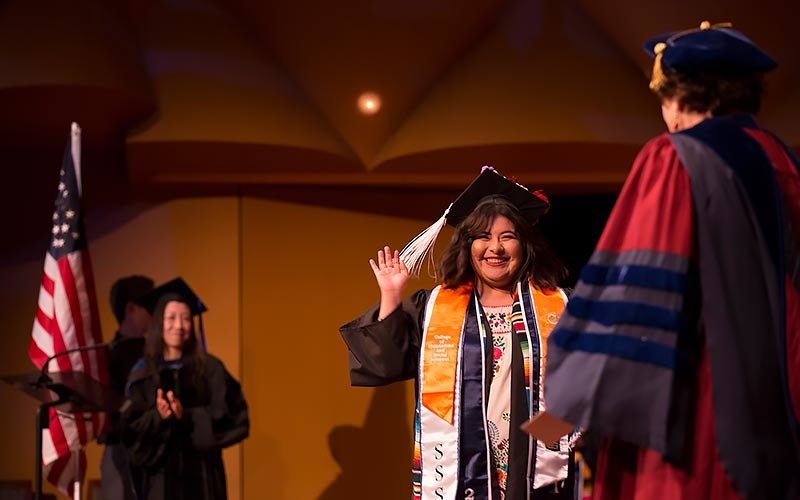 On Sunday, May 20, the final day of Cal State Fullerton's three-day Commencement weekend, the final 10 commencement ceremonies took place. Students from the colleges of Engineering and Computer Science, Communications, and Humanities and Social Sciences, celebrated their turn to walk across the stage as their names were called.
College of Engineering and Computer Science
An elite group of eight Cal State Fullerton scholars, who arrived as freshmen in 2014, graduated Sunday with both a bachelor of science degree and master of science degree in computer engineering.
They're also the first at CSUF to make this demanding four-year sprint in the integrated B.S.-M.S. program in computer engineering.
These scholars were among the more than 1,100 students eligible for graduation in the College of Engineering and Computer Science — earning a bachelor's or master's degree in such majors as civil, mechanical, electrical and environmental engineering, computer science, computer engineering and software engineering.
Dean Susamma "Susan" Barua delivered welcome remarks to the grads, telling the engineers and computer scientists that they are well-prepared to meet the technological demands of society.
"With the many challenges we face, the world will need qualified, competent and innovative individuals like you who are willing to work towards the greater good," Barua said.
"As you enter the workforce, reflect on what contributions you would like to make. What is your role going to be? What is technology's role? Is it to make life better, easier, more efficient, dynamic? How can you use the skill set you built while at Cal State Fullerton to make the world better?"
As technology continues to transform lives, the CSUF grads are ready for the workforce, Barua continued.
"Voice-activated smart systems such as Siri, Alexa and Google Assistant have become part of our daily routines. I can't wait to see what the future will continue to bring us, but one thing is for certain: it will require every one of you to help move us forward."
College of Communications
With mortarboards proclaiming everything from "Thank you, Mom and Dad" to "I did it for my dog," graduating students from the departments of Human Communication Studies and Communications Sciences and Disorders celebrated their ceremony at the Titan Gym with CSUF President Fram Virjee, who called them "the next generation of communication experts."
Virjee spoke of the importance of communications professionals in the workforce and encouraged graduating Titans to give back.
"You are well-prepared to serve and change the world."
"This is the day you become a college graduate. This is the day you join the ranks of educated people. And that is no easy feat," said Robert Gass, professor and faculty marshal for human communications studies.
"Earning a college degree is different than any other milestone in your life. You can lose a job, you can lose your house, you can lose your hair — or even your mojo — but your education will stay with you the rest of your life."
The graduates at the program for the Department of Cinema and Television Arts heard from two of their peers: Lance Dumais, candidate for an MFA in screenwriting; and Erin Serfass, B.A. cinema and television arts candidate.
"When I imagined this day, I saw myself graduating from a completely different school, different major and drowning in student debt," said Serfass, who began at CSUF as a musical theatre major. "Several times I didn't expect to finish, but somehow I got through it and so did you. I didn't imagine graduating like this, but I'm so glad I did. Congratulations and good luck!"
Dumais shared his experience of graduating with his undergraduate degree in 2008 — "when no one was handing out jobs" — and finally getting a job after taking part in a 5K race.  "Ahead of us is another long race; so relax, spend time with family and friends, take a vacation, but then take out that pen, get that job, tell those stories and get into the race."
On the intramural field Sunday evening, Bonnie Stewart, a communications lecturer and adviser of The Daily Titan, challenged the communications department's 779 graduates to be ethical and truthful.
"Your degree makes you a superpower. The Avengers have nothing on you," the communications faculty marshal said to thunderous applause from the graduates. "You have the tools to be a force for good in the world. Your most powerful weapon is the ability to recognize what is true and deliver accurate, fair messages."
Nicole Justice, who is graduating with a B.A. in communications-journalism, spoke confidently to her classmates.
"I believe we have an advantage over other students not in our department," she said. "We have the ability to see, feel and hear what everyone else does, but with a deeper connection because as communicators we have to understand people.
"I am more than certain each and every one of us will change how our society operates in a positive and impactful way."
College of Humanities and Social Sciences
Among a boisterous audience in the Titan Student Union Pavilion, four students shared the personal meaning of their degrees during the College of Humanities and Social Sciences ceremony for ethnic studies and philosophy.
Tangeray Beverly, graduating with dual bachelor's degrees in ethnic studies-African American studies and criminal justice, recalled how a "Survey of American History With Emphasis on Ethnic Minorities" class helped her discover her true passion and propelled her to become a leader in such organizations as the Afro-Ethnic Student Association, Sistertalk and the Black Student Union.
"Once I got a taste of the rich culture and heritage within Black history, I was hooked," she said. "I became inspired by the ancestors and leaders who walked before us and cultivated unity in spaces where there once wasn't any hope."
Meanwhile, an "Asian American Women" class inspired Jonathan Nguyen, who joined the university as a computer science major, to instead pursue a double major in ethnic studies-Asian American studies and women and gender studies.
Dreading first-day-of-class introductions, the self-described introvert was surprised when the professor asked them to share the origins of their names. "It was such a tiny thread of their story, but the class was developing into a space where people felt safe to share their stories," said Nguyen, who hopes to pursue a career in higher education and be part of building welcoming communities for future students.
Rudy Aguilar, who identifies as a queer, first-generation, Chicano student and the eldest in a military family, is graduating with bachelor's degrees in ethnic studies-Chicana and Chicano studies and sociology.
"For Chicana and Chicano studies graduates, we come out of the university seeing the world through a highly critical perspective," said Aguilar, challenging fellow graduates to "close gaps, fill needs, change social structures, find solutions and contribute to better the lives of others."
Juan Bolivar-Escobar, a double major in philosophy and business administration, said earning a humanities degree was "transformative" and led him to value the process of inquiry.
"We spent our time here contemplating questions that matter to all of us: Who am I? Why am I here? How can I live a meaningful life?" he shared. "The point is not to find an answer and call it a day; the point is to continue to question, to continue to learn, and most importantly, to continue to grow."
Describing the ceremony as "bursting with energy," President Virjee emphasized that the students' education and diversity make them ideally suited to lead change in the world.
"You couldn't come at a better time in our history," he said. "You are America. You are what America is soon to be. We look to you to be the light in the darkness, illumining the path for social justice, equality and equity for all."