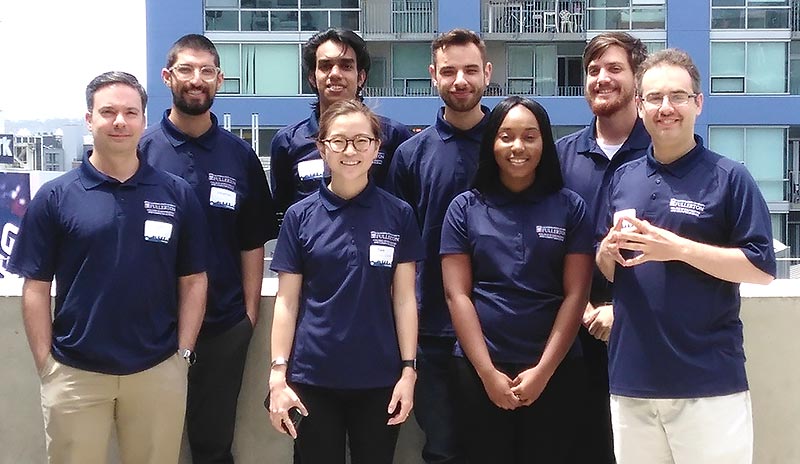 With their climate app that uses a cloud-based, "internet of things" software platform, a team of Cal State Fullerton computer science, computer engineering and business students won second place and a $5,000 cash prize at the third annual GE Digital CSU Challenge.
The April 29 competition in San Diego challenged students from eight California State University campuses to develop sustainability solutions leveraging GE's Predix internet of things technologies.
The CSUF students developed a product called "Airis," which focuses on addressing air quality and algae bloom issues — possible air quality health hazards — in San Diego. The Airis app is a system that empowers cities to meet their sustainability goals with tools to assess microclimates and predict ozone levels.
"Students had to develop a computational model associating sensor data to the air quality and algae blooms, implement it and develop a solid business case," said Mikhail Gofman, associate professor of computer science and director of the Center for Cybersecurity. Gofman and Kenneth "John" Faller, associate professor of computer engineering, are the team's faculty advisers.
CSUF team members are undergraduates Nara Dashdondog, business administration-operations and supply chain management concentration; Maygan Hooper, Jonathan Moubayed and Austin Suarez, computer science majors; Jonathan Schinowsky, computer engineering; and computer science graduate student Shripal Mithun Rawal.
GE Digital in 2017 awarded CSUF $450,000 in funding over three years to support the student design challenge. Alumnus Bill Ruh, GE Digital's chief executive officer, was instrumental in creating this opportunity for students. Ruh '83, '84 (B.S., M.S. computer science) also is GE's senior vice president and chief digital officer and is a recipient of CSUF's 2017 Distinguished Alumnus Award.
Read more about the team here.