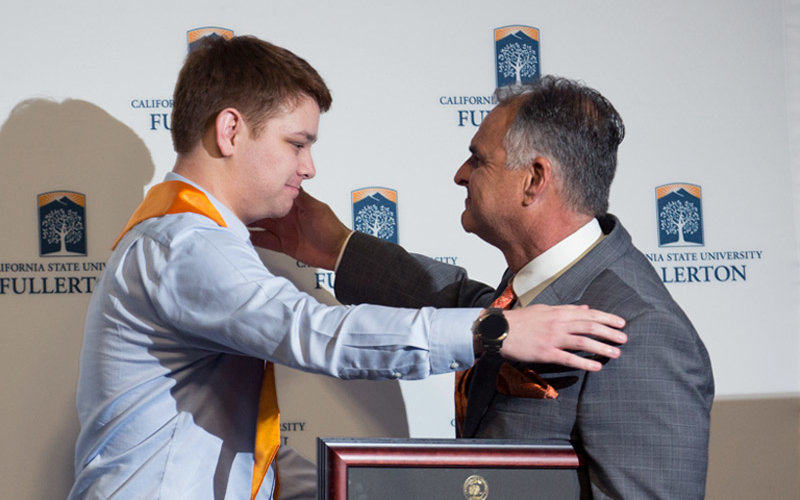 Graduating senior Jacob Biloki was placed into foster care at age 11 after dealing with years of abuse and neglect. He became depressed and anxious and spent hours alone in a group home. At 13, he went to live with foster parents, but his life with them wasn't much better.
"They told me that I was there because of the money. I didn't want to go back to a group home or juvenile hall, so I kept quiet."
As a high school teen, Biloki found the courage and determination to turn his life around through education. At Cal State Fullerton, he got the academic and personal support he needed through the Guardian Scholars Program for current and former foster youth.
Today, Biloki is celebrating overcoming the challenges and adversities he endured in his childhood. He stood on stage before campus leaders and staff, family members, friends and supporters at the May 2 Guardian Scholars Recognition Reception. He bravely, and at times tearfully, shared his personal story of reaching his goal of earning a college degree.
He is among the 13 graduating Guardian Scholars honored at the reception (see sidebar), and one of six who spoke about their experiences in college and as a scholar in the program.
Biloki is earning his bachelor's degree in computer science, and graduates with honors and awards for his research efforts in artificial intelligence and cybersecurity, under the guidance of faculty mentor and "inspiring educator" Mikhail Gofman, associate professor of computer science, "who believed in me and supported my goals."
"Being a foster youth is arguably one of the worst, yet best things that happened to me because it is all about how you take on the challenges," said Biloki, who credited Gofman, his girlfriend Ashley Nguyen, and "Scott" from Court Appointed Special Advocates who is like a father to him, for their encouragement to help him reach his college and life achievements.
"Scott believed I could be more than a foster child. Ashley believed in me, and for the first time, I experienced true compassion. Dr. Gofman knew I could become a great computer scientist."
Berenecea Johnson Eanes, vice president for student affairs, welcomed guests and reminded the students how higher education does transform lives.
"The Guardian Scholars Program is one in a million. It's a priceless experience — it's an investment in these students that we believe in wholeheartedly," Eanes said.
President Fram Virjee also thanked attendees for their roles in supporting scholars inside and outside the classroom. He reminded graduating scholars that they will always be part of the "Titan family."
"You're poised to become college graduates, to become the leaders of our communities, our state, our nation, and the world," Virjee said. "Think of how far you've come, how hard you've worked — and how far you are going to go next."
Since 1998, Guardian Scholars has offered financial, academic, social and personal support to former foster youth through donor, foundation and community support. This year, 45 students are receiving a full scholarship, and another 49 current and former foster youth have access to all of the program's support services. Fourteen new scholarship recipients join the program in fall.
The program also boasts a 95 percent retention rate and a 76 percent graduation rate among the full scholarship recipients, said Yajayra Tovar, assistant director of the Center for Scholars.  
"Coming out of foster care you are launched into a world with all responsibilities placed directly on your shoulders. As a Guardian Scholar, I was able to identify with others like myself and realize that you don't need to hide what you went through as a foster youth. In the program, there are so many amazing people who support you and to listen to what you are going through," said Biloki, who has landed a job as security engineer and data scientist at a financial services company.
"All of us have our dreams, and without the support of others, we have little chance of accomplishing everything we are capable of. I always knew that through education and knowledge, I could change the path of my life — and have the family and career that I have always wanted."