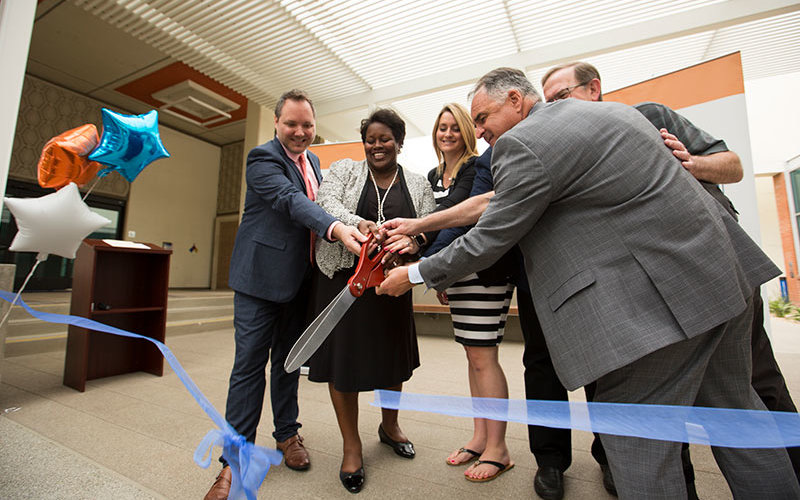 College students can't learn if they're sick, in pain or in need of mental health services.
That's why it's important for Cal State Fullerton to offer a range of student health services — from primary care medical needs, family planning to mental health counseling — and in an accessible, welcoming environment.
"Like books and curriculum, these are basic needs for student success," said Cal State Fullerton President Fram Virjee.
Virjee, Student Affairs leaders and campus members on April 27 celebrated the completion of the renovations to the Student Health and Counseling Center, housed in two adjacent buildings on the north side of campus.
The center has a new main entrance, with the construction of a trellis connecting the two buildings. The center, which used to have separate reception areas in each building, now boasts a remodeled, centralized reception area for health, counseling and psychological, and TitanWell health promotion appointments and services. These services are offered under the concept of "student wellness," an incorporation of the body, mind and spirit, or treatment of the whole individual, said Kerri Boyd Crooks, TitanWell senior coordinator.
The new open-air, inviting reception area also helps to reduce the stigma for students seeking mental health services, and also protects students' privacy.
"Perhaps most importantly, our center is visible, it's accessible and it's welcoming," Virjee noted. "Health and well-being are vital to the academic success of our students."
Berenecea Johnson Eanes, CSUF vice president for student affairs, echoed the need to make improvements to the center to provide students with the services to be well.
"We have tons of resources for students to stay well and thrive," Eanes said, urging campus members to become advocates for student wellness. "If they need anything, there are professionals here to help."
Student health services began on campus in 1963 on the fifth floor of McCarthy Hall. With the newly transformed center, Clint-Michael Reneau, associate vice president for student affairs who oversees retention services, shared that the aim was to create a safe, inclusive, informative and welcoming environment.
"We want to promote healthy behaviors and wellness among the CSUF student population — and for students to become empowered to make more healthful choices for themselves," Reneau said.
In Student Affairs, Reneau added that the student health services provided goes back to "Maslow's Hierarchy of Needs."
"We cannot expect students to perform well academically if they are haven't eaten because of food insecurity, aren't getting adequate sleep because they are sleeping in their car due to homelessness, or are struggling to feel a connection or a sense of belonging to the campus. This is why our work is so critically important."
Other new center features include:
The creation of a relaxation space between the buildings where students can rest and study. 
A more accessible entrance leading into the Student Health and Counseling Center-West building. 
An enlarged conference room and additional office spaces.