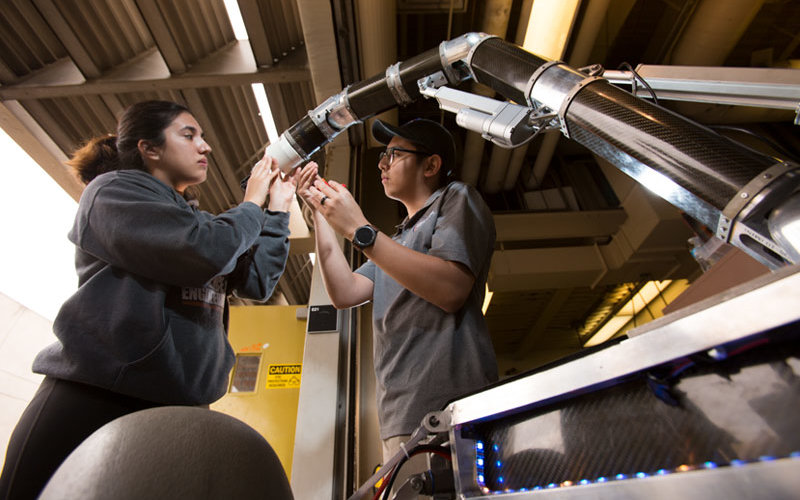 Designed and built to survive and operate in a Martian environment, the Titan Rover is ready to roll with 35 other teams from all over the world in the 2018 University Rover Challenge May 31-June 2 in the Utah desert.
The Cal State Fullerton student team tirelessly worked throughout this academic year to represent the university on the international stage and build a redesigned rover vehicle, equipped to take on future space exploration and rescue missions, said Justin McGregor, project lead.
The international competition, hosted by the Mars Society at the Mars Desert Research Station in Hanksville, started with a record field of 95 teams. After passing two rounds of highly competitive reviews — the preliminary design and system acceptance reviews — the Titan Rover, dubbed "Calypso," qualifiedfor the final competition. This is the third time Titans have qualified to compete in the University Rover Challenge.
"Calypso is an evolution of last year's mechanical platform, but features entirely new electrical and controls systems," said McGregor, who this month graduated magna cum laude with a bachelor's degree in mechanical engineering.
The Titan Rover team will face off against U.S. universities, including Stanford, Cornell, Virginia Tech, as well as teams from countries such as India, Poland and Australia.
The multidisciplinary team of more than 80 CSUF students includes mechanical engineering, electrical engineering, computer engineering, computer science, geological sciences, biological science and business administration majors. Nina Robson, assistant professor of mechanical engineering, is the team's faculty adviser.
The CSUF team's mission is to develop skills that are applicable in the professional workforce and to nurture the team's members combined passions for space, science, engineering and discovery.
For the collegiate competition, teams are challenged to build the next generation of Mars rovers that will one day work alongside human explorers in the field. Rovers competing at the University Rover Challenge face four difficult tasks: the extreme retrieval and delivery task, the equipment servicing task, the autonomous traversal task and the science cache task.
"These events challenge us to design and build a robotic system capable of studying the harsh environment of a neighboring planet — and maybe even eventually making humans an interplanetary species," McGregor said.