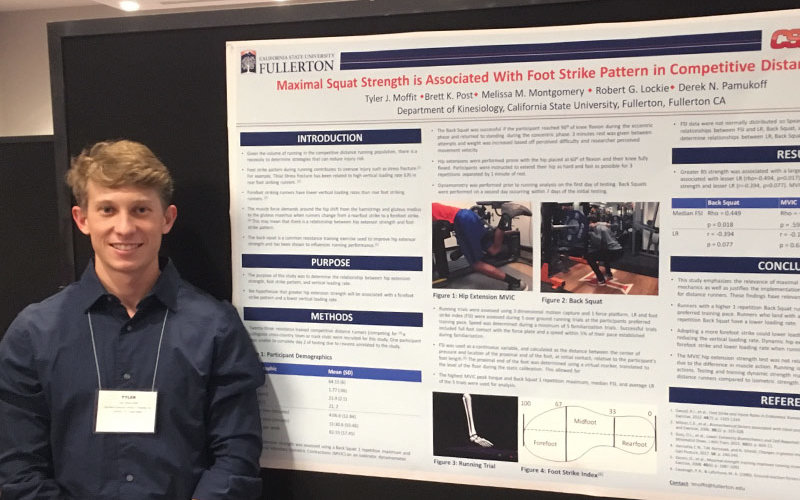 As an undergraduate student athlete on Cal State Fullerton's track and field team, Tyler Moffit wondered if his passion for strength training gave him an edge on the track. In his master's thesis, the now kinesiology graduate student disputes long-standing views on how runners and other endurance athletes should train for their sport.
Moffit's findings challenge the widely held view that maximal strength and resistance training are not necessary in the exercise regimens of runners and other endurance athletes, and have implications for injury prevention and performance enhancement among elite and recreational runners.
The study — which grew out of research conducted under the guidance of Derek Pamukoff, assistant professor of kinesiology — garnered Moffit the 2018 Outstanding Student Scholarly or Creative Activities Award from the university's Office of Research and Sponsored projects. The award recognizes research endeavors undertaken either independently or in collaboration with a faculty member.
To read more about Moffit and his research, continue reading.
Moffit is expected to take part in the Friday, May 18, commencement ceremonies beginning with the University Ceremony at 5:30 p.m. and followed at approximately 7 p.m. by college programs. The celebration for athletic training, health science, kinesiology and public health will be held on the intramural field located north of Titan Gym.