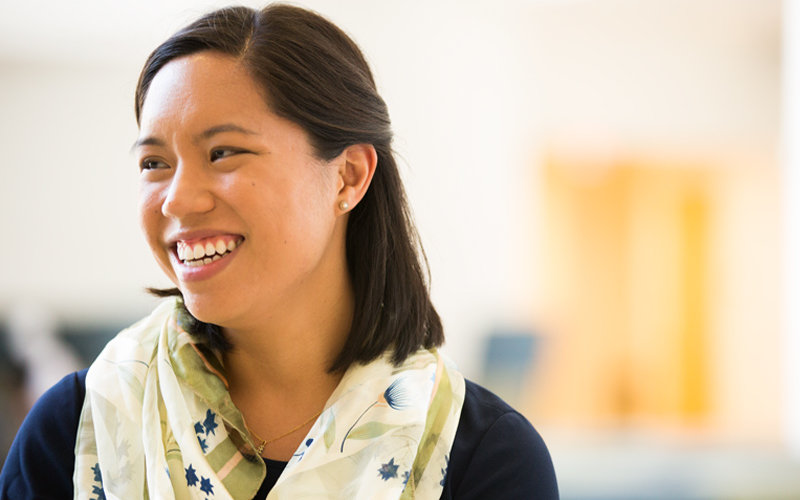 A Cal State Fullerton graduate nursing student will get the opportunity of a lifetime as she travels to Lucknow, India, for an intense, two-month immersion into the Urdu language and the region's culture.
Adrienne Almada of Los Angeles, the recipient of a U.S. Department of State Critical Language Scholarship, sees it as an opportunity to broaden her skills to better serve her patients.
"My heart leaped," says Almada, who spotted a notice about the scholarship while waiting for her evening class. "The word 'Urdu' was typed in small print in black and white, yet it seemed so eye-catching to me."
Almada had traveled to an Urdu-speaking country three years ago and began to learn a few essential phrases as a nurse visiting a rural hospital. She also has Urdu-speaking friends. So, not only did her heart leap, she applied.
She is one of 550 competitively selected American students who received the scholarship to study what the State Department deems critical languages: Arabic, Azerbaijani, Bangla, Chinese, Hindi, Indonesian, Japanese, Korean, Persian, Punjabi, Russian, Swahili, Turkish and Urdu.
A student in CSUF's master's degree in nursing-women's health care concentration, Almada hopes to eventually become a certified nurse midwife. "I really want to be able to walk with my patients through this special period of their lives — through prenatal care, labor and birth and after-care.
"I feel blessed to be studying women's health at CSUF," says Almada. "The nursing faculty and staff are encouraging and supportive. Dr. Ruth Mielke (associate professor of nursing) is inspirational to me because of her rapport with patients, expert knowledge and professional advocacy."
Almada travels to Washington, D.C., this week for three days and will meet up with the other scholarship recipients traveling to India.
During her eight weeks in Lucknow, she will live with a local host family, attend more than 20 hours of weekly intensive language instruction and participate in cultural enrichment experiences designed to promote language learning. Afterwards, CLS scholars are expected to continue their language study and apply their new skills in their future careers.
Almada, who hopes to graduate in August 2019, says participating in the program "is an important step toward one of my life goals of working abroad alongside Urdu-speaking women in underserved communities as a woman's health nurse practitioner and nurse midwife."
Cal State Fullerton's nurse midwifery program is one of only three such programs in California and one of approximately 40 nationally. Since the program began in 2004, CSUF's nurse-midwifery students have achieved a near 100 percent first-time pass rate on the American Midwifery Certification Board's national certifying exam.
The master's program in nursing-women's health care concentration, which includes an emphasis in midwifery, was ranked 20th in the nation in U.S. News and World Report's 2017 rankings of graduate schools. More information about the program can be found online.