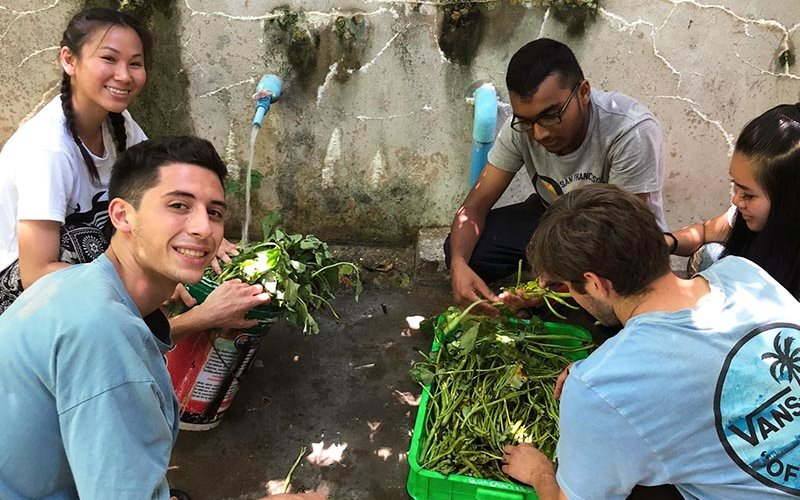 How can a society that has lived through genocide achieve both justice for the victims and national reconciliation? How can a developing country pursue economic growth while protecting its culture and environment? How does religion view social responsibility and community service?
These are some of the questions 12 Cal State Fullerton students considered while studying abroad in Cambodia earlier this summer. In classes on "Cambodian Life and Culture" and "Cross-Cultural Social Thought," they learned about the war-torn country, its history, culture and civilization.
To complement their lessons, students visited a number of sites associated with the Cambodian Genocide of 1975-79, including the Tuol Sleng Genocide Museum, the Killing Fields — where more than a million people were killed and buried by the Khmer Rouge regime — and Apopo, a nonprofit organization that trains rats to find mines leftover from the war.
Students also toured such sites as the temple ruins of Angkor Wat and Angkor Thom, met with Cambodian students and business owners, and traveled in the contemporary cities of Siem Reap, Battambang and Phnom Penh.
"Cambodia is developing very rapidly, so the country has a whole range of really interesting challenges surrounding the environment, health, education and reconciliation following the genocide," said Saul Tobias, program coordinator and associate professor of liberal studies. His research areas include political theory, social thought, religion, and migration and refugee studies.
"In many ways, Cambodia has become ground zero for nongovernmental organization activities. There are so many nonprofit organizations working in Cambodia, and they've been doing a lot of thinking about how to do this kind of work ethically, sustainably and effectively," he said. "It's a really good place to think about the possibilities of social justice work, but also some of the problems that international and local organizations face."
In addition to taking courses and visiting historical sites, students participated in a service-learning activity alongside college students from Paññāsāstra University of Cambodia. Together, they taught English to elementary school students at three nonprofit organizations that provide free education and health care to low-income communities: Future for Khmer Children, ABCs and Rice, and Anjali House.
"The service learning not only humbled me more as an individual, but also pushed me to fight for the rights of children," said Jhadira Mercedes Guzman, a sociology major with a concentration in social inequalities.
"This experience helped me reaffirm my desire to help children in need and made me realize how much of an impact I can make in my own community," added Guzman, who aims to become a social worker.
For political science major Cristell Chouy, whose parents escaped from the Khmer Rouge during their late adolescent years, visiting Cambodia was a meaningful way to learn about her own ancestry.
"I was suddenly able to see the influence Cambodia had over my parents and my grandpa who live in California," said Chouy. "I never realized that my grandpa planted specific trees, flowers and fruit — banana, grapefruit, lychee and a variety of flowers — that reminded him of his homeland that he loved so dearly. His love for Cambodia is now a love I share."
Chouy, who aspires to work in the municipal sector, said the program helped her examine a different political structure and the role government can play in influencing its people.
"In Cambodia, I was able to see small communities thrive in environments where resources were few," she said. "This gave me great confidence that I will be able to serve my community even when I feel that I may not have all the resources I need or want."
The "Culture, Development and Social Justice in Cambodia" study abroad program will be offered again in summer 2019. For more information, visit the College of Humanities and Social Sciences website.