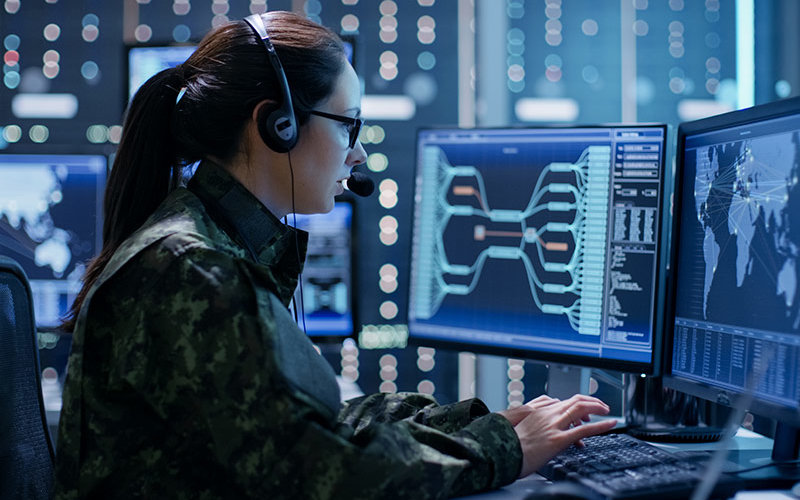 To expand the pool of people gathering and analyzing intelligence following 9/11, the United States government and intelligence community began reaching out to universities to create a pipeline for students to enter such careers.
An initial five-year grant to the California State University system launched the Intelligence Community Scholars Program at seven campuses, including Cal State Fullerton.
Since 2007, 73 students have completed the program, which offers undergraduate students mentoring, networking and advanced study of national security, intelligence, global studies, language proficiency, geography and other subjects.
"Cal State Fullerton provides the beautifully rich pool of diversity that the government and intelligence community are seeking," said Valerie O'Regan, program coordinator and a professor of political science who has worked for the last 12 years to better understand the needs of the field. "We have so much diversity in terms of gender, ethnicity, religion, strategic languages and socioeconomic factors."
Alumni of the program have gone on to careers in the Office of the Director of National Intelligence, Department of Defense, FBI, military intelligence, law enforcement, sheriff's departments, anti-terrorism task forces and more, according to O'Regan.
"This career field is extremely difficult to enter," said Margaret*, who recently graduated from CSUF with a bachelor's degree in political science. "But thanks to the things I've learned and the career networking opportunities afforded to me from this program, I was able to land multiple interviews with agencies in the intelligence community."
Through the program, political science alumna Anna* had the opportunity to attend a seminar with the Defense Intelligence Agency in Washington, D.C. The experience confirmed her desire to work on matters of national security and counterterrorism.
"This came about from my personal experiences living in a post-9/11 America as an ethnic minority," said Anna. "As this event shaped our foreign policy tremendously, it also changed public sentiments. I hope through my work in intelligence, I can help safeguard this country from other devastating events."
Thomas*, a political science major currently in the program, aspires to become a foreign service officer in the State Department. "The Intelligence Community Scholars Program has brought me in contact with students who have similar interests and career goals, as well as given me the opportunity to meet with professionals in the field of national security," he said.
To complete the program, students take six courses from a variety of disciplines, attend a spring colloquium and receive faculty mentorship.
"We typically get a lot of political science, criminal justice and geography majors, but we're also interested in students who are studying business, the hard sciences, health and computer science," said O'Regan.
Applications are accepted on a rolling basis. For more information, contact voregan@fullerton.edu or 657-278-3468.
*To protect their career interests, students and alumni in this story are identified by aliases.