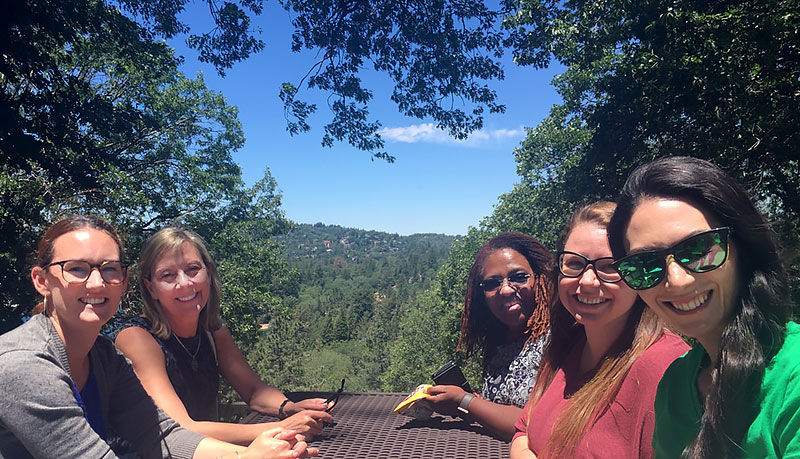 For eight weeks this summer, CSUF graduate-level nursing students are juggling work as they head into rural communities to serve.
For many, this is their first time working outside of a hospital. It's a rigorous experience of 15 nine-hours shifts, working with a wide range of patients from infants to the elderly — but well worth it, say the students.
The immersive experience was established through a partnership between Cal State Fullerton's School of Nursing, Mountains Community Hospital and Rural Health Clinics.
"Working in a rural clinic made me realize how much I don't know," said Ayesha Walden, who has worked the last two years in labor and delivery. "Being a labor nurse has been an incredible experience, but I just felt I was missing something…. There is so much more to this process than just delivery. "
She enrolled at CSUF to become a nurse midwife/nurse practitioner and to expand her opportunities to work with patients throughout their pregnancy. Then Walden learned about "Rural – Women of the Mountains Accessing New Services (Rural-WOMANS)" project.
 

"There is a great need for primary care providers in rural areas," said Ruth Mielke, women's health care concentration coordinator. "The hope is that if a student has a positive clinical experience training in an underserved site that student may be more likely to consider working in that site or a similar site after graduation."

 
"I didn't expect the older and the low–income population," said Jamie Ray, who works in Los Angeles and drives two hours to serve in a clinic near the San Bernardino Mountains. "It's a bit of a culture shock."
Walden agrees, noting how, in a hospital setting, a test can be done and completed right away, whereas in a rural setting the test must be performed and sent to a lab located elsewhere. "It may take up to 2-3 days to get results, so treating symptoms right away is important."
"Beyond basic Pap smears, the current women's health care services in the rural clinics are pretty limited," noted Ruth Mielke, associate professor of nursing and women's health care concentration coordinator. "The remote location of the clinics also means it's very likely women are just letting things go and not taking care of health conditions early on. We're working with staff and providers at these sites and helping them develop the women's health in that whole area."
"It's really good to work in this situation and see that it works," Ray added. "… It has changed how I see things for the future. It makes me more aware."
"In a rural setting, you can develop those trusting relationships and build a rapport with your patients, where in an urban setting that can be very difficult," added Walden. "Every encounter while serving in the rural clinic has been a new learning experience. Every encounter has been meaningful."