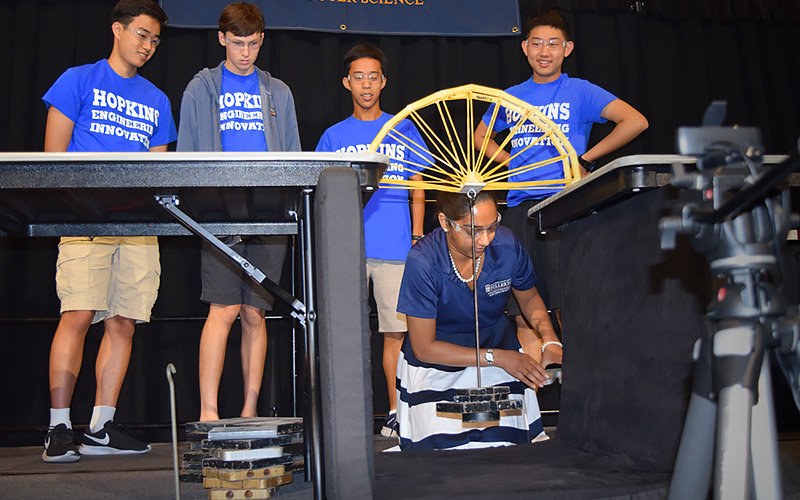 A team of high school students engineered the all-time record-breaking bridge that supported a whopping load of 209 pounds during this summer's Spaghetti Bridge Competition.
The bridge-breaking competition July 20 at Cal State Fullerton capped the four-week Engineering Innovation program for high school students who have an aptitude in math and science and an Interest in engineering.
The winning team members are Ian Grimm of Sage Hill High School in Newport Beach, Justin Khou of Valencia High School in Placentia, Eddie Shin of Canyon High School in Anaheim and Andrew Wong of Arcadia High School.
"The biggest reason our bridge won is because we worked together," said Grimm, a soon-to-be junior and aspiring engineer. 
This was the 13th summer that the university has hosted Engineering Innovation, a partnership between CSUF and Johns Hopkins University. In the course, students learn to think and problem-solve like engineers through learning about engineering disciplines and doing hands-on projects like designing and building spaghetti bridges.
Students built bridges made of dried pasta and epoxy to meet engineering specifications. During the competition, weight was added to the bridges to find out which bridge could hold the heaviest load before breaking into pieces.
"It's a very good, well thought-out design and had good construction," Binod Tiwari, professor of civil and environmental engineering,  said about the winning bridge. Tiwari, CSUF's 2017 Outstanding Professor, is a longtime instructor of the course.  Beena Ajmera, assistant professor of civil and environmental engineering, co-taught  the course.
This summer, 39 students from 25 high schools in Orange, Los Angeles and San Bernardino counties participated in the program.
While the college-level curriculum is rigorous, students agreed it is worth it to find out if engineering is a career to pursue.
"I was challenged in ways I've never been challenged before. This course pushed me to learn new things, to meet the challenge and not to give up," said Jasmine Wang, an incoming senior at Woodbridge High School in Irvine who plans an engineering career. She was a member of the all-girls team, whose bridge held 60 pounds.
Southern California Edison donated $20,000 to this summer's program, which supported 10 student scholarships.