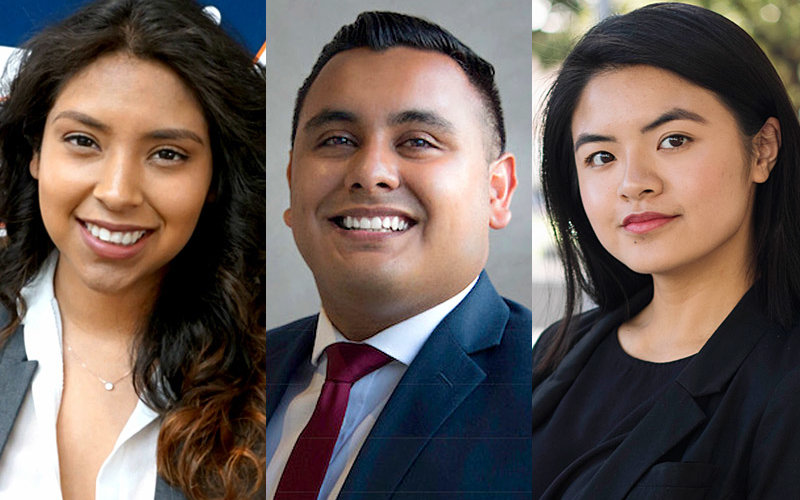 To deepen her understanding of poverty across the nation, Helen Chavez is spending her summer interning for the National Coalition for the Homeless in Washington, D.C.
The Cal State Fullerton political science major is involved in such activities as building public awareness of homelessness through the Faces of Homelessness speaker series, assisting in the launch of a new peer mentoring program, and keeping the organization's website and resources up-to-date. 
"What I enjoy about this organization is that it gives agency back to those who have experienced homelessness to then tell us, allies, what they believe needs to happen in order for the system to work — instead of us alone assuming what needs to be done," said Chavez, who wants to pursue a career in the nonprofit sector.
Chavez is one of 14 Cal State DC Scholars interning at nonprofits, advocacy groups, congressional offices, executive agencies and business groups in Washington, D.C., this summer. The National Coalition for the Homeless is one of three new internship sites, along with Kyle House Group and Washington Intern Student Housing.
CSUF criminal justice major Hasani Olalde is serving as a legislative affairs intern at Kyle House Group, a consulting firm that focuses on government relations, commercial advocacy, partnership development, policy analysis and strategic communications. A typical day for him involves researching and drafting memos for clients, and attending hearings and events on The Hill to relay timely information on government proceedings.
"Being part of the DC Scholars program has helped me network with people who have a lot of experience working in Washington, D.C.," said Olalde, who is working toward a career as a lawyer specializing in finance and criminal law. "Having a solid network can help you get connections, advice and simply provide you with different perspectives."
Vivian Chan, a CSUF student majoring in communications-public relations, and cinema and television arts, is working as an event planner and social media intern at Washington Intern Student Housing, an organization that has been housing interns, students and teachers in the nation's capital for more than 25 years.
"I am responsible for everything related to events, social media, graphic design, photography and videography," said Chan. "I had no prior experience in event planning, so it has been fascinating to learn new skills."
CSUF's summer 2018 DC Scholars, their cities of residence, majors and internship sites are:
Vivian Chan of Elk Grove, cinema and television arts and communications-public relations, Washington Internship Student Housing
Helen Chavez of La Puente, political science, National Coalition for the Homeless
Elisabetta Cirrito of Brea, English, Achieving the Dream
Alexa Flores of Twentynine Palms, business administration-legal studies, U.S. Rep. Paul Cook (R-CA)
Nicole Kaylor of Fullerton, business administration-marketing and information systems, U.S. Rep. Mark Takano (D-CA)
Justin Liu of La Habra, business administration-economics, U.S. Rep. Lou Correa (D-CA)
Hasani Olalde of Riverside, criminal justice, Kyle House Group
Natalie Serrano of Tustin, criminal justice, U.S. Rep. Lou Correa (D-CA)
Deanna Taylor of Brea, criminal justice and sociology, U.S. Marshals Service
Autumn Vanderhook of Yorba Linda, communications-public relations and political science, House Foreign Affairs Committee
DC Scholars from other CSU universities include:
Mark Burroughs of Santa Rosa, criminal justice, U.S. Rep. Mike Thompson (D-CA) — CSU Chico
Ruby Robles of Montclair, anthropology and political science, U.S. Rep. Nanette Barragán (D-CA) — CSU Dominguez Hills
Marley Smith-Peters of Chico, political science-legal studies, Lexington Institute — CSU Chico
Alexandra Theodotou of Aliso Viejo, international relations, The National Defense University Foundation — San Francisco State University