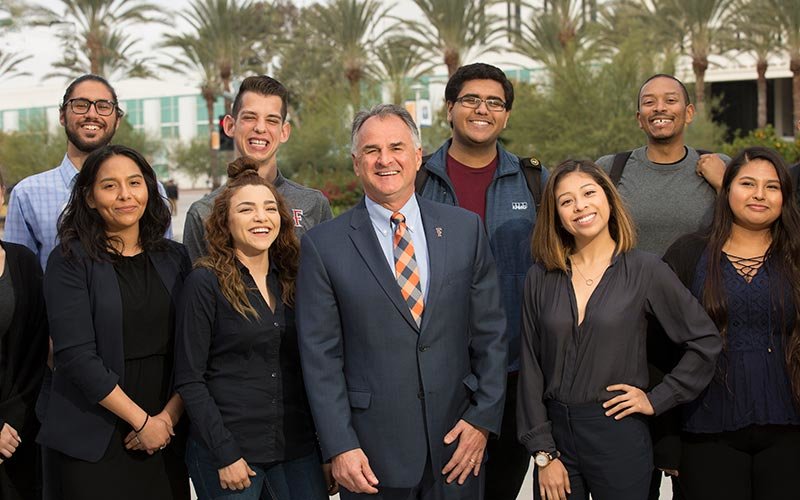 Meet fellow Titans, hear from campus and student leadership, learn the Titan Clap and celebrate the start of the academic year at Cal State Fullerton's 2018 University Convocation.
The annual tradition of welcoming Titans to the university will be held Thursday, Sept. 6, at 1 p.m. in the Titan Gymnasium. This year's student-focused theme, "The Day You Become a Titan," aims to reach a wider audience than years past. All students, faculty and staff are encouraged to attend and register using the Convocation participation form.
"University Convocation will be a special opportunity for our community to gather and officially be recognized as members of our Fullerton family," said Berenecea J. Eanes, vice president for student affairs. "Our hope is that students, faculty and staff leave this reimagined day of celebration with a deepened passion for our institution. For so many individuals, this will forever be looked back on as the day they became a Titan, and I am grateful for the campuswide collaboration that has gone into developing this event."
The event is free and the first 1,000 attendees will receive an exclusive CSUF water bottle. Additionally, new students and faculty will receive a commemorative pin.
Earlier in the day, Cal State Fullerton will recognize founding members of the Titan family — students, faculty and staff from 1957-69 — during a 10:30 a.m. brunch at the Golleher Alumni House. Tickets are $20. Founding Titans also are invited to stay for the Convocation ceremony.
More details about the University Convocation and the Founding Titans brunch are available online.