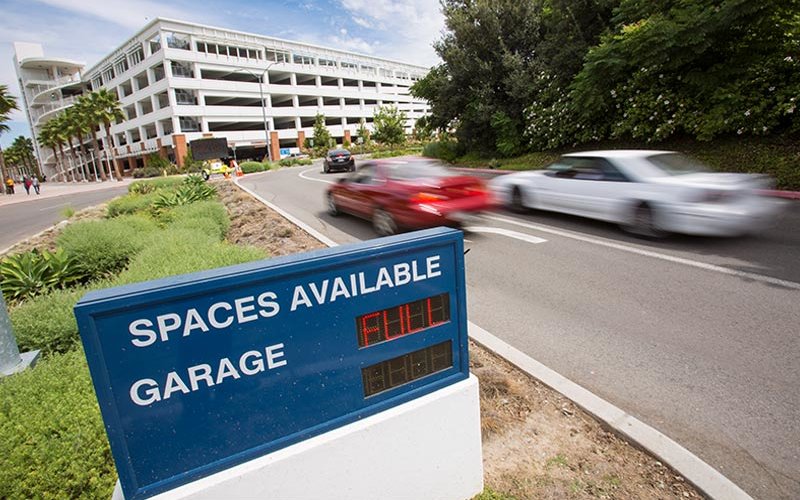 It's August, which means the beginning of the fall semester is right around the corner. Here's the latest in information about parking, whether on campus or off, from the Office of Parking and Transportation.
Need a permit?
Semester permit purchases are handled online. Daily permits also are online, as well as available for purchase in several campus parking lots and on levels two and above of the Nutwood, State College and Eastside parking structures. Daily permits are valid in the main campus student lots and parking structures, unless restricted, as well as all day at the Irvine campus in student lots.
After 4 p.m., daily permits are valid in the College Park Faculty-Staff lot, and after 6 p.m. in faculty-staff parking in lots A, E and C. Check out the campus map for specific locations.
Short-Term Parking
Campus members who come for an hour or three can take advantage of 124 three-hour parking spaces in Parking Lot D west of the tennis courts. Details available at the More Parking Options website.
Park and Pay spaces, for visitors and guests seeking 1-2 hour short-term parking, are available at several campus location, including the residence halls, College Park and in the parking structures. Locations and time limits available here.
Park and Ride to CSUF
Want to park away from campus and ride to school? Faculty, staff and students can now purchase an off-site parking permit, park at the Evangelical Free Church in Fullerton and take a shuttle to campus.
A limited number of $70 off-site permits are available on a first-come, first-served basis. These permits are good Monday-Thursday at the EV Free Church and on campus Fridays, weekends and during finals.
Campus members can park on levels two and three of the Evangelical Free church's parking structure — a total of 550 spaces — at 2801 Brea Blvd., Fullerton, 92835. The service begins Monday, Aug. 27.
The free shuttle service is offered Monday through Thursday 7:30 a.m. to 7:15 p.m. and runs every 10-15 minutes. The shuttle stop is located off Corporation Drive in front of the Parking and Transportation Office. 
Assisted Parking
Assisted parking, where drive aisles are used for temporary parking once a lot is filled, is being offered starting Aug. 27 in student Lot A, at the corner of State College and Yorba Linda boulevards, and faculty Lot E behind the Fullerton Marriott.
Assisted parking will be offered Mondays through Thursdays as each lot nears capacity, usually from about 8:30 a.m. to 1 p.m. in Lot A, and from about 9 a.m. to 12:30 p.m. in lot E, say parking officials.  
More information on Assisted Parking, including the process on picking up your vehicle, is available online.
Need a Charge?
If you are one of the growing number of people with electric vehicles, Cal State Fullerton has you covered. Campus members with valid CSUF parking permits can utilize the various EV sites throughout campus.
Campus guests and visitors, with valid daily permits, can use a charging station and pay $0.40 per kilowatt hour to charge their vehicles.
More information about electric vehicle charging stations and their use on campus, is available on this Parking and Transportation website.
Commuter Services
Students, staff and faculty can all utilize the commuter options provided by Parking and Transportation Services, including car and vanpooling. Explore the commuter options here.
Check Out Parking on Social Media
Parking and Transportation Services is now on social media! Follow the department on Facebook, Twitter and Instagram for the latest updates.
Still have questions?
Call Parking and Transportation Services at 657-278-3082, Mondays through Friday, 8 a.m. to 5 p.m.