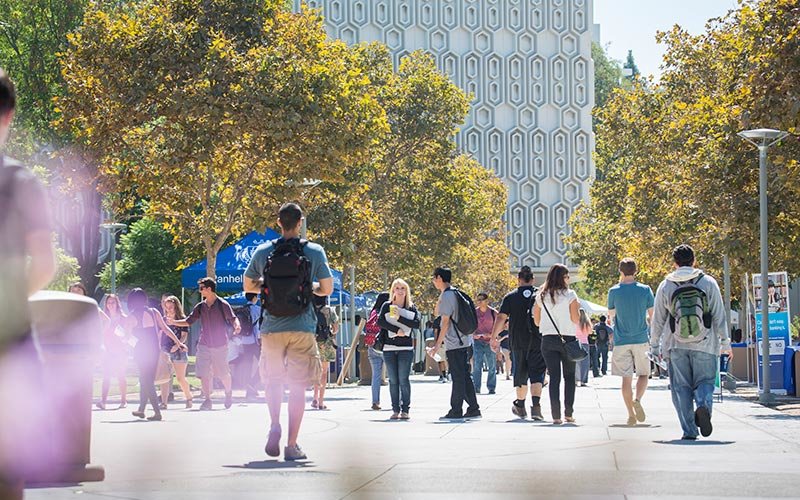 The fall semester will be fast-paced and busy as Cal State Fullerton welcomes nearly 40,000 students to campus, where some will be introduced to a new teacher preparation pathway and two new business minors in sales and marketing.
Preparation for the fall has been underway for quite some time as admissions officials worked their way through a record 51,157 first-time freshmen applications and an equally record-breaking 75,720 total undergraduate applications. Accepted students enrolled during orientations held throughout the summer.
In addition to new and returning students, the campus is introducing 25 new faculty members, most of whom will be in classrooms Monday, Aug. 27, and Tuesday, Aug. 28, although officially classes begin the Saturday before.
A number of administrators are stepping into new roles, including the appointment of Susamma Barua as dean of the College of Engineering and Computer Science and Morteza Rahmatian begins a two-year tenure as dean of Mihaylo College of Business and Economics. A complete list of new campus appointments can be found here.
New Courses
In several new courses offered this fall, students will be encouraged to channel their inner Einstein, explore the art of hat making in a costume craft class, and report and produce stories from the U.S.-Mexico border.
Theater students can explore the world of costume design, specifically hat making in the new course "Millinery: The Art of Hat Making." The costume craft class will focus on creating various style of hats from the 19th and 20th centuries. "Students will experience creating hats made out of Buckram, straw and felt," explains Kathryn Wilson, assistant professor of of theatre and dance, who has worked with Shakespeare Orange County and South Coast Repertory Theater. "The focus will be on the design and balance of a hat, as well as creating functional hats that can be worn for stage productions."
Meanwhile, communications students will be getting out of the classroom and going to the U.S.-Mexico border this fall, to put their writing and reporting skills to use in "Reporting About Minorities of the Southern Border."  The course is being taught by Jesus Ayala, a lecturer who spent 15 years as a reporter and producer for ABC television. The students will work in teams to produce 10 stories from the U.S. border and 10 stories from Mexico, explains Ayala. The students' ideas range from stories of struggling families and regional employment issues to drug wars and narcotic smuggling.
In an introductory course for the College of Natural Sciences and Mathematics, students will be asked to "Think Like Einstein" to gain an appreciation for how science influences everyday lives. To think like a scientist (and an informed citizen), students need skills in critical thinking, argumentation and scientific reasoning. The course develops these skills and provides practice applying them to a range of topics, says Merri Lynn Casem, professor of biological science and one of the faculty members team teaching the course.
Campus Updates
Students looking for the university's cultural resource centers will find most of them, including the Center for Scholars, just inside the south entrance to the Pollak Library. The Veterans Resource Center has relocated to University Hall, Room 244.
Further into the library, students and faculty members will notice the summer renovation of the north side of the first floor. A grand 're-opening' for all the changes will be held at 2:30 p.m. Wednesday, Aug. 29.
In addition, the College of Health and Human Development's Department of Health Science has become the Department of Public Health.
Campus members and visitors will discover a new restaurant in the Titan Student Union food court. Hibachi-San opens officially Monday, Aug. 27. Fall hours for food establishments on campus, can be found on the Campus Dining website.
All campus food services are connected to the Tapingo mobile app for those who want to order and pay ahead.
This fall, Parking and Transportation will offer assisted parking, three-hour parking spaces for short campus visits, and Monday-Thursday shuttle services from Evangelical Free Church in Fullerton beginning Monday, Aug. 27. More details can be found here.
New Minors Bolster Work-Ready Goal
New tools and new skills in preparation for a business career are on tap for students selecting two new minors offered this fall by Mihaylo College of Business and Economics' Marketing Department.
The marketing minor is open to CSUF undergraduates of all majors and focuses on preparing the next generation of professionals and leaders to market themselves and their businesses and organizations. For more information, about the marketing minor, contact Neil Granitz, professor of marketing.
The sales minor equips students with the tools and techniques necessary to become successful sales professionals or master the sales components of their position. For more information about the sales minor, contact Kayla Schneller or visit the Cal State Fullerton Sales Leadership Center in Mihaylo Hall, Room 3357.
Also offered this fall is a minor in literacy education offered by the College of Education's Literacy and Reading Education Department. The minor provides students with knowledge of literacy development and research, critical thinking and exposure to multiethnic literature relevant to understanding the experiences of underrepresented minority groups, said associate professor Julian Jefferies. For more, contact Jefferies or go to the catalog page.