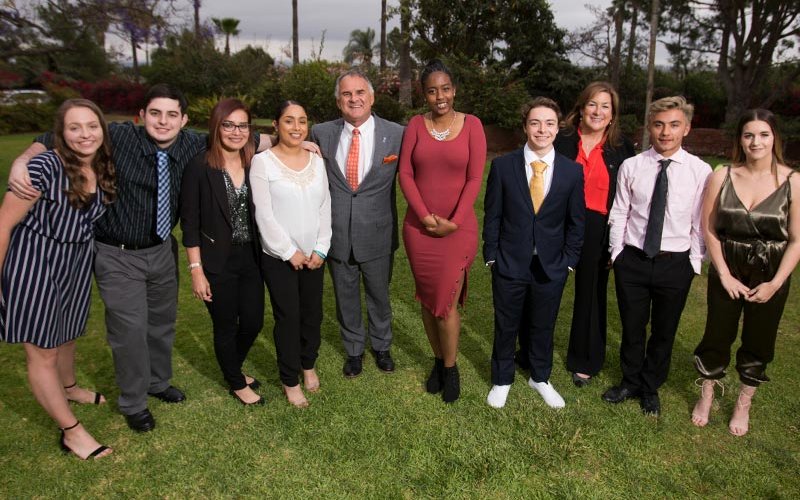 As a high school baseball player, Tristan Spaulding had his eye on one day going to college at Cal State Fullerton because of the legacy of the university's championship baseball program.
That all changed by his senior year after taking a theater class and watching the TV show "The Office," he laughed. He gave up playing baseball, basketball and football and caught the acting bug.
But Spaulding, a native of Modesto in California's Central Valley, is still realizing his dream to study at CSUF. He starts classes this fall as a theatre arts major and as part of the university's Guardian Scholars Program for current and former foster youth. With donor and community funding, the program offers these students financial, academic, social and personal support.
"I toured the campus and fell in love with the Department of Theatre and Dance," said Spaulding, who is transferring from Modesto Junior College. "I can't wait to start and meet the faculty."
Spaulding is among the incoming class of 14 new Guardian Scholars — freshmen and community college transfers — who have been awarded full-ride scholarships. The students will study disciplines such as communications, criminal justice, political science to psychology. Some also will be the first in their families to earn a college degree.
Currently, there are 46 scholarship students, including the incoming scholars, in the program, which started on campus in 1998 and celebrates its 20th anniversary this fall.
"This is a scholarship like no other. Kids raised in foster care can be emotionally distressed and there are a lot of missing pieces from their childhood," said Spaulding, who entered the foster care system at 14.
"But the staff and supporters of the Guardian Scholars Program understand. They're like a family taking you in. They take care of you and are there for you every step of the way in your education."
Last year, Guardian Scholars launched the Foster Friendly Ally program to widen its breadth of support and resources to the students. About 100 CSUF faculty and staff members serve as allies and partner with students to create an inclusive foster-friendly environment across the campus. New and returning Guardian Scholars also had the opportunity to learn and connect with allies and other supporters and spend the night on campus during the Summer Scholars Enrichment Program in June.
The program also has opened its doors to any current or former foster student enrolled at CSUF. Seven non-scholarship students join the program this fall, bringing the total to 32 students who have access to the myriad of support services offered, with the exception of a full scholarship.
One of those former foster youth benefitting from this expanded effort is community college transfer student Jorge Alvarado. At 13, the Los Angeles native entered the foster care system and as a teen got into trouble, and ended up in the probation system. At 17, he turned his life around, with the help of others, graduated from high school and earned two associate degrees.
Alvarado joins Guardian Scholars this fall as a transfer student from El Camino College in Torrance and will study criminal justice. His future goals are to earn a law degree and become a district attorney to help other foster youth and juveniles who end up in the criminal justice system.
"Through Guardian Scholars, I hope to get the emotional support and academic advising to help me earn my bachelor's degree," Alvarado said. "My career goal is to help rehabilitate troubled juveniles to give them a better future."