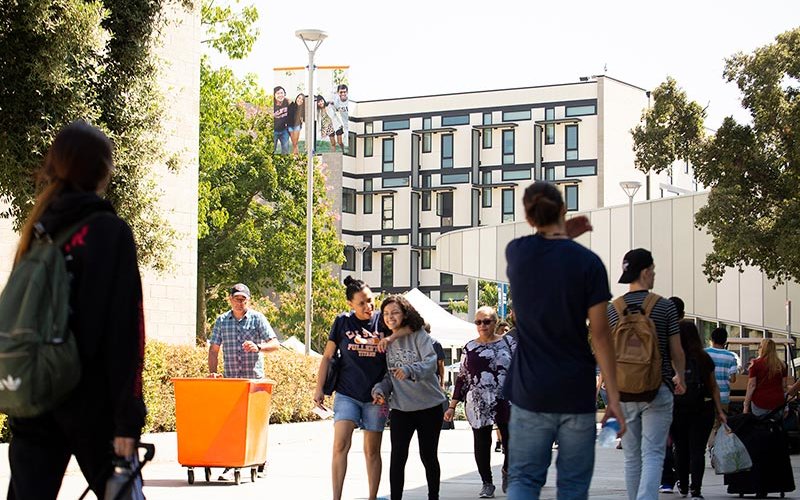 About 2,000 Cal State Fullerton students joined the Titan family on Move-In Day, Aug. 23. Rolling carts and colorful crates overflowing with pillows, fans and mini-fridges lined the Piazza most of the day, until parents and loved ones said their tearful goodbyes.
New Titans
Freshmen Anthony Juarez, left, and Aaron Torres get settled in to their new home in the Pine building. 
Roommates Aaron Torres and Anthony Juarez first met years ago while playing club volleyball.
Meeting again on Thursday called for a high-five and a hug.
Torres, from Beaumont, will study kinesiology. Juarez, a first-generation college student from San Jacinto, plans to study political science in preparation for law school.
We're a big family.
"I was dreading this, but I feel so much better now," said Anthony Juarez's mom, Jeanette. "Everyone's so nice and helpful, and that makes me feel at ease."
The new roommates got a visit from Cal State Fullerton President Fram Virjee and his wife, Julie.
"Be engaged and enroll in at least 15 units each semester," President Virjee told Juarez. "This is an amazing school. We want you to graduate and succeed."
"We're a big family," Julie added.
The Housing Orientation Weekend includes a town hall, a block party in the Piazza, a meetup at the Women's Volleyball game, live-band karaoke, a Target run, tie-dye crafts and a pool party at the Recreation Center.
Building A Community
…they're making a home.
Faculty resident LaTosha Traylor, moved in a few weeks prior to Move-In Day, and was eager to meet students Thursday. The assistant professor of sociology says she's looking forward to getting to know the new Titans included in more than a dozen theme communities, where students connect with others studying in the same college or sharing similar interests. 
Faculty resident LaTosha Traylor, an assistant professor of sociology, reviews the family photos she brought for her two-year stint in campus housing. 
"For me it's about being a visible presence and demonstrating to students that, hey, faculty members are people, too," she said. "I hope that we can break bread together and get to know each other as university residents."
Traylor said a dwelling feels like a home when the family photos go up, and that she knows students will be adjusting in their new homes, too.
"They want to feel like they're a part of something and they're being seen," she said. "I get that. It's about meeting them here, where they're making a home."
Bonds That Last Forever
…CSUF was really 'home.'
Hailey Siedentopp, an Honors Scholar, remembers the move-in experience fondly.
The junior kinesiology major lived in the Fig building as a freshman and then moved to the campus apartments her sophomore year. Moving from Covina to campus housing offered independence and a chance to connect to Titan life, she said.
Honors student Hailey Siedentopp, left, says her roommate Delaney McHeffey is  "family" now. 
"At Fig, our floor was so close," she said. "That made it feel like CSUF was really 'home.' The experience really made me grow up and I made friends I'll have for life. Everyone is terrified and experiencing something new. You bond over that."
The 2018-19 academic year begins this week, with fall classes starting Saturday, Aug. 25.  The nearly 40,000 enrolled students are set to return to classes Monday, 27 and Tuesday, Aug. 28.