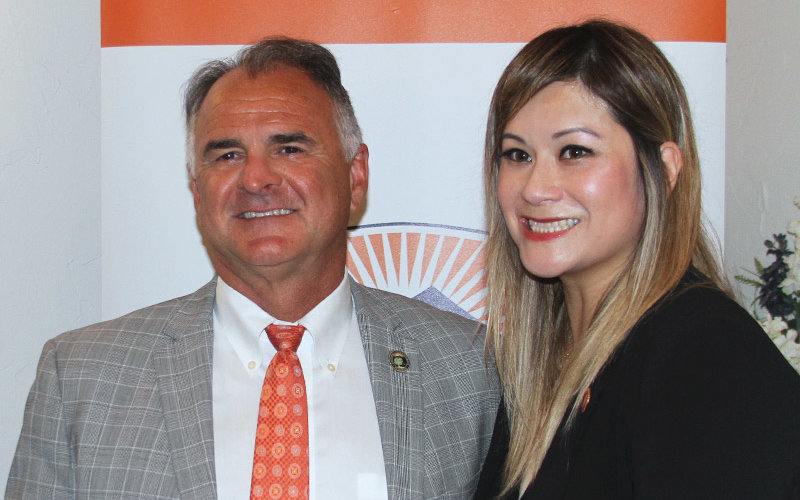 Cal State Fullerton's Golleher Alumni House served as the site of an Aug. 18 swearing-in ceremony for state Sen. Ling Ling Chang. Chang will serve residents of California's 29th Senate District, which covers portions of Orange, Los Angeles and San Bernardino counties. 
Cal State Fullerton president Fram Virjee introduced former state Senate Minority Leader Bob Huff, who administered the ceremonial oath of office to Chang in front of friends, family, community members and elected officials. 
The president also thanked Chang for her support of Cal State Fullerton in her previous post in the state Assembly representing the 55th Assembly District, north of the Fullerton campus. 
Virjee spoke of the economic impact Cal State Fullerton has on the county, adding: "We're also the future of this community. … Eighty percent of our alumni live within 50 miles of this campus."
As a diverse campus, he noted, "we're a reflection of what Orange County is today but even more important, what it's going to be tomorrow. We are very proud of that. It energizes us. It makes us excited to be partners of our community.
"The 29th Senate District is just as diverse as we are. It is actually a real reflection of Cal State Fullerton. And I might add that 8,400 of our students live in this district, and 31,500 of our alumni live in this district," Virjee said. "It's Titan territory. We're so pleased that Senator Chang is here at Cal State Fullerton for her district swearing in. We look forward to working with her in Sacramento to make positive change to move our community forward — not just Cal State Fullerton, but Orange County and the region."
Chang vowed to continue supporting the university. "CSUF is such an important part of our community and state," she said.
Chang represented the 55th Assembly District in the state Legislature and served as Republican whip. Additionally, she served as an inaugural member of the Privacy & Consumer Protection Committee.