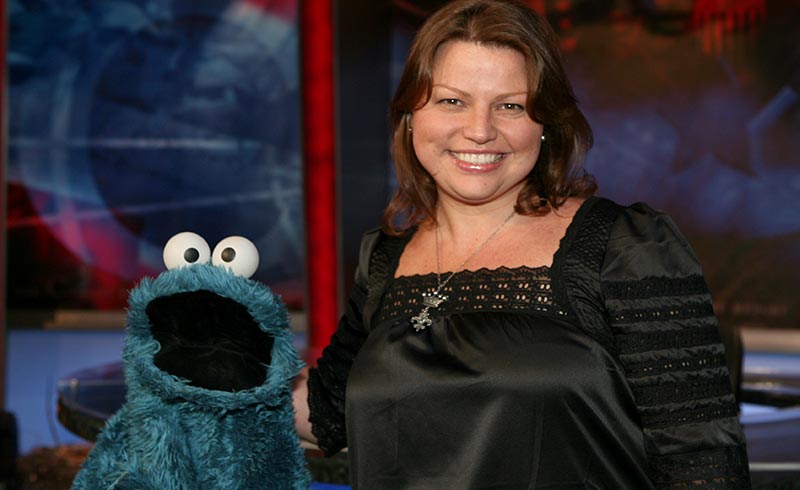 Two internships, juggling multiple responsibilities in many on-campus productions and a Cal State Fullerton degree put Tanya Michnevich Bracco on a path to become executive in charge of production and supervising producer of "The Late Show With Stephen Colbert." 
The alumna will share tales of her time on campus, her career trajectory and what she's learned along the way during a Tuesday, Sept. 18, appearance in Cal State Fullerton's Young Theatre. Maria Cominis, professor of theatre and dance, will moderate the 4:30 p.m. discussion.
As a student, Michnevich Bracco '95 (B.A. theater arts) was working in the Department of Theatre and Dance's costume shop when she learned that communications students needed assistance with set building, costumes, makeup and special effects for several student films.
"We went on to make and produce several shorts that led to working on several projects with other schools. Those jobs led to music videos, commercials and films," explains the College of the Arts graduate. "That opportunity completely took me in the direction I wanted." 
Searching for on-the-ground experience that could complement her education, she also sought out various internships. "Back then you had to go through the career development office and go through binders and binders of available internships," says the alumna. "I got two while I was at Cal State Fullerton. One was at the Discovery Channel, when it was one channel and all documentaries. I got to work on a documentary series.
"The second one was as an intern and second assistant to the president of Paramount Network Television, Garry Hart (now chair of CSUF's Department of Television and Cinema Arts). I call those two years at Garry's office my grad school years because I was able to learn everything about television — from development to production to post and then rolling out the show." 
Today, she oversees the production and operation of the "The Late Show With Stephen Colbert" — in essence, "Helping to create the infrastructure so that an idea or a script can be thought of in the morning, produced at a rapid speed during the day, taped at 5:30 p.m. and delivered by the end of the day," she says.
Before production even began, they had to renovate the venerated Ed Sullivan Theater — the former venue of multiple CBS shows, including "The Merv Griffin Show" and "Late Show With David Letterman" — to install their new show.
"That's when I realized, oh my gosh, I have a theater degree and am working in a Broadway theater," she says. "I have a TV production emphasis and am supervising producer of a late-night TV show that I'm personally very proud of. I helped with almost every aspect of the design, from the inception to the implementation. I ended up actually doing everything I studied for!"