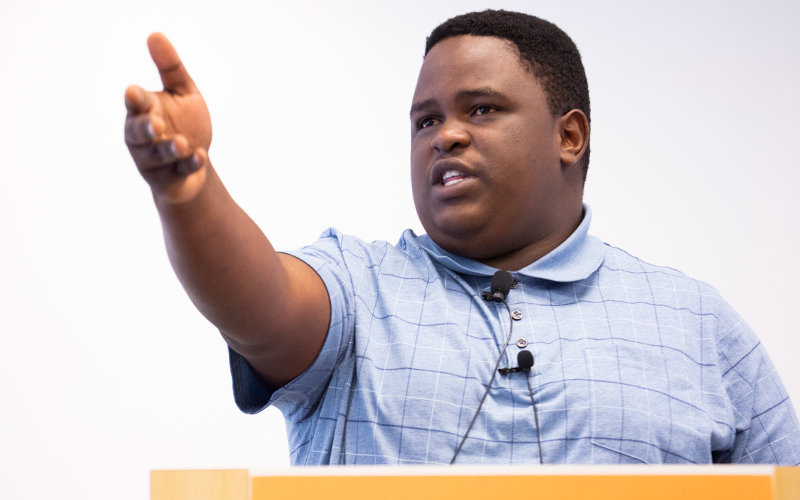 On April 6, 1994, a plane carrying the president of Rwanda was shot down, leading to 100 days of genocide with more than a million people killed in the African nation. For comparison, it would take three 9/11 events, every day, for 100 days to reach that number.
However, 65 percent of Rwanda's citizens were born after the genocide. So how does a nation move on following such a crisis?
Titan debaters Gabe Botello and Agnes Lee recently focused on the topic of "In the Aftermath of Genocide: Forgiveness is More Important than Justice" against iDebate Rwanda debaters Mekha Rousseau and Kelia Kaneze.
The Titan duo focused on the greater need for justice during the one-hour debate, while the members of iDebate Rwanda argued that forgiveness is preferred.
"Forgiveness, a deliberate act of forgiving someone even if they don't deserve it, helps put an end to revenge killings and restores social order," said Kaneze.
"My father and uncle were perpetrators of the killings," said Rousseau. "And my mother lost numerous family members. Since the majority of Rwanda's population is a post-survival generation, we must forgive our parents' mistakes. When the children of victims still hate the children of perpetrators, how can we achieve full peace as a nation? We must forgive."
Arguing on the side of justice, Lee noted that paying reparations plays an important role in society. "We need justice first, then forgiveness," she said.
"Justice helps hold those accountable who involved in the killing so relapses don't occur," said Botello. "Policies protect citizens, promote dialogue, and remove the cycle of hate."
The Rwandan students are on a three-month United States tour that includes stops at universities, colleges and high schools in 15 states. The tour's mission is to teach them to think critically, solve problems creatively and impact their own society, said the group's founder Jean Michel Habineza, who traveled with the teens. He launched the group's annual tours in 2012, with the goal of using debate to inform others about the 1994 mass slaughter of Tutsi during the Rwandan Civil War in 1994, and to change the lives of young Rwandans and East Africans.   
"What does it take for someone to wake up and kill their neighbor?" Habineza asked. "Genocide is a human issue. Our country is the size of Maryland. After the genocide, we had to go back and live in the same communities. The equivalent would be if children of the victims of 9/11 had to live in the same community with the children of the terrorists.
"Yet Rwanda can stand as a mirror to everyone's soul," he continued. "Through debate and civil discussion, we can find a way to live together and discuss what our parents did. For some the genocide is abstract but many of us lived through it."
The Rwandan guests spent the week with university President Fram Virjee and his wife, Julie, toured the campus and local sites, and plan to attend CSUF's Saturday, Sept. 29,  Concert Under the Stars.  
"The experience brings together two important concepts stressed in our department: advocacy and intercultural communications," said Erika Thomas, assistant professor of human communication studies, and director of the forensics program. "Our debaters had about a week to prepare and it's always interesting to see how different cultures debate. We don't have that many chances to participate in international debates so this was a great opportunity for our students."
Members of CSUF's 29-student forensics team will compete next at Weber State University Sept. 29 — Oct. 1. Regional and national debate or speech tournaments are set for nearly every week until the middle of November, Thomas said.    
"The competitive debate season is a grind that goes from August to May," said Jon Bruschke '88, '90 (B.A., M.A. speech communication), professor of human communication studies.
"Events like this exhibition debate with students from an entirely different continent are a breath of fresh air and a chance to share ideas with students who have completely different perspectives than those we see week in and week out," he said. "It is truly a chance to use debate to make new connections, learn new ideas and make new friends. I still remember the debates I had in China 30 years ago."